Air Conditioning, Heating & Plumbing in Torrance, CA
Air Conditioning
Whether you need to purchase a new central air system or an air conditioning replacement to cool your home, get seasonal maintenance or AC repair in Torrance, CA AC Plumbing, Heating & Air Conditioning is the company you can trust! We provide energy saving solutions that will save you money.
When only certain rooms need heating and cooling, Samsung ductless air conditioners provide a flexible & efficient solution. There are zoning and heating options with Samsung mini-split heat pumps. Since Torrance has a moderate climate sometimes it's cooler outside than it is inside of your home. That's when the QuietCool whole house fan system will work effectively.
We offer a wide range of air conditioning products and services to meet the comfort needs of Torrance homes and businesses. Ask us about your options for keeping your home cool. Get a free estimate for air conditioning installation in Torrance, CA (for residential only).
Samsung Ductless Air Conditioner
It's possible to transform any room in your home or your entire home into an oasis of comfort; cool and dry in the summer and warm and cozy in the winter. A ductless air conditioner gives you precise temperature control even in spaces you thought would be impossible to fix. Samsung's Free Joint Multi system can customize the temperature in each room of your home.
QuietCool Whole House Fan
QuietCool whole house fans are a ventilation system that is whisper quiet compared to old, traditional whole house fans. Because it is quiet, homeowners will run it for hours at a time allowing it to cool the entire mass of the home. The QuietCool whole house fan will replace all of the hot air, eliminate pet dander, and exhaust all of the pollutants that are built up in the home within a matter of minutes.
QuietCool Smart Attic Fan
QuietCool Smart Attic Fans are the best in the industry. With the Most Energy Efficient Attic Fan and the Most Powerful Attic Fan, we have the lineup to beat.
Plumbing Repair in Torrance, CA
If you're looking for an honest plumber in Torrance, CA with quality services at affordable rates, call AC Plumbing, Heating & Air Conditioning! We're a full-service plumbing company serving Torrance, CA and the South Bay area. Our customers recognized us as the leader in drain cleaning,  repairing water lines, whole house repiping & solving sewer problems.
If you have a plumbing problem call 310-530-6290! We offer fast & reliable service for all types of plumbing problems including whole house re-pipes, water service line replacements, leak detection, toilets, faucets and sewer line repairs.
Water Heater Repair & Replacement
If you are looking to replace your old water heater and trying to decide on an efficient hot water heater system give us a call. We install and repair water heaters, tank & tankless. Ask us about our tank & tankless water heater solutions that will fit your budget.
Water Filtration Systems
How does the water taste in your home? Many different options are available when it comes to home water filtration, ranging from small filters that can be attached to faucets or water pitchers to treatment systems that handle the incoming water supply for the whole house. AC Plumbing can install a filtration system in your home that will enhance the quality of your water.
Some of our Plumbing Services Include:
Heating
Our technicians provide heating repair, maintenance and furnace installation in Torrance, CA. Our furnace repair technicians have the knowledge and experience to work on all heating brands. If you need furnace repair in Torrance, we are available to diagnose and repair your system.
Josie V.
Torrance, CA
Super fast service, Freddie and Juan helped me fix the clogged tub and fixed the kitchen leaks. They were honest on what I needed to fix, no extra hidden charges! I loved their booties, which AC Plumbing wears to protect customer's floor. My friends and Family know about you guys, thank you!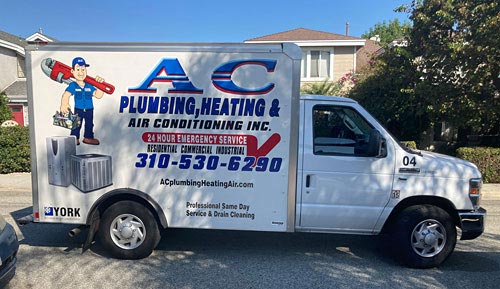 Schedule Service
Call us today for exceptional air conditioning, heating & plumbing in Torrance, CA.
Torrance, CA 90501, 90502, 90503, 90504, 90505, 90506