Drain Cleaning in Torrance, CA
Clean drains are a vital part of your home's plumbing system. A clogged drain can slow down your plumbing system. Don't pour chemicals & your money down the drain. Invest in safe and effective professional drain cleaning in Torrance, CA and all of the South Bay & Los Angeles.
AC Plumbing, Heating & Air Conditioning is a licensed plumber and only uses equipment that is safe for pipes. We never use harsh chemicals to clear a drain. Some drian cleaners can further damage your pipes.
With services like hydro jetting, our plumbers can safely & quickly clear your drains of clogs, grime, dirt & any other debris. Hydro jetting not only pushes the obstruction completely out of the drain, but this technology also clears the drain of any residue.
If you experience any of the following signs in your home, you could benefit from drain cleaning:
Slow-moving or standing water in your sinks or bathtub.
Clogged toilet
Trouble getting the toilet to flush properly.
When the toilet is flushed, it takes a long time to refill.
Foul odors coming from the drains.
If you need drain cleaning in Torrance or the South Bay call AC Plumbing, Heating & Air Conditioning.
Gina W. Torrance, CA
Armando and his crew are extremely knowledgeable about plumbing and heating. I've used them multiple times for my rental and my home. Disposal repair, toilet repair, clogged sinks, a new HVAC system, etc. They are quick and professional and get the job done, no matter what it is. I can count on them to go get 'er done!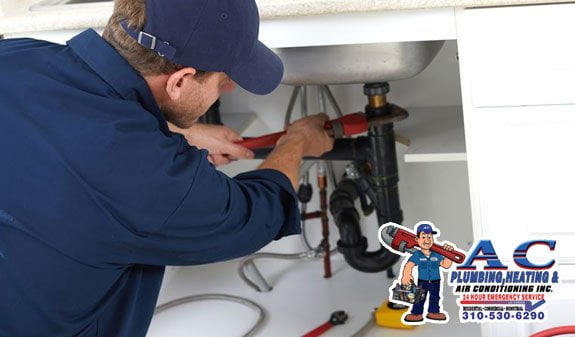 Schedule Service
For drain cleaning & plumbing
Torrance, CA 90501, 90502, 90503, 90504, 90505, 90506