Experience Comfort & Energy Efficiency with a
Whole House Fan Installation in Torrance, CA
AC Plumbing, Heating & Air Conditioning id your trusted source for whole house fan solutions in Torrance, CA. Discover how our QuietCool brand of whole house fans can transform your home's comfort and energy efficiency.
Benefits of a Whole House Fan
Environmentally Friendly Solution
Choosing a whole house fan is not only beneficial for your wallet, but also for the environment. By consuming less energy compared to air conditioners, you'll be reducing your carbon footprint and contributing to a greener, more sustainable future.
Why Torrance, CA is Perfect for Whole House Fans
Torrance enjoys a Mediterranean climate, characterized by mild winters and warm summers. With regular coastal breezes and relatively low humidity levels, the city's weather conditions are tailor-made for whole house fan systems. Embrace the natural cooling potential of Torrance and make the most of this eco-friendly and cost-effective cooling solution.
At AC Plumbing, Heating & Air Conditioning, we're dedicated to enhancing your comfort and energy efficiency. Experience the benefits of a whole house fan, specifically tailored to Torrance, CA. Choose QuietCool for whisper-quiet operation and unbeatable performance. Contact us today to schedule an installation and start enjoying a cooler, more eco-friendly home environment.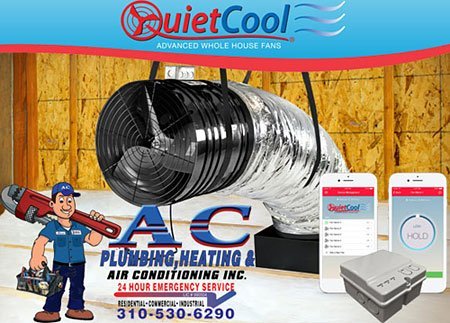 Get more information
about whole house fans