There are a lot of problems that can develop overtime in your plumbing system. Slow moving or even an occasional clogged drain may not seem like that big of a deal. Over time some clogs in your drains can lead to some serious issues. That's why you should schedule professional drain cleaning in the South Bay with AC Plumbing, Heating & Air Conditioning.
When you encounter a blocked drain, you might want to try and clear the drain yourself. You should contact a professional plumber that is equipped to properly clear a clog. If you are interested in scheduling professional drain cleaning in your home, give us a call. Our South Bay service area includes Torrance, Palos Verdes, Carson, Harbor City, Redondo Beach, Rolling Hills & surrounding areas.
Clogged Drain Cleaning Services
We offer diagnostic and repair services that include:
We use a combination of methods and advanced technology to locate and clear clogs in drains and sewer lines. The best repair method depends on the type and location of the clog. Our technicians will evaluate the problem and recommend the most effective drain cleaning solution to get rid of the clog and restore the function of your plumbing system.
Commercial Drain Cleaning Services
When a clog is disrupting your business operations, you can rely on the pros at AC Plumbing, Heating & Air Conditioning to solve your sewer or drain problem. Our technicians are experienced in diagnostic service and equipped with the most effective tools for drain cleaning in the South Bay and surrounding areas.
Fred R.
Torrance, CA
We are new clients of AC Plumbing; they were highly recommended by a smart business friend.We had a problem with drain pipe obstruction not cleared by another plumber after 2 visits. Armando C. came in the late afternoon, evaluated the problem and outlined the solution. Early the next morning (today). Jose R. and Mario C. did a lot of work quickly and efficiently. In addition to thanks for work done so well, we had real pleasure meeting these three fine men.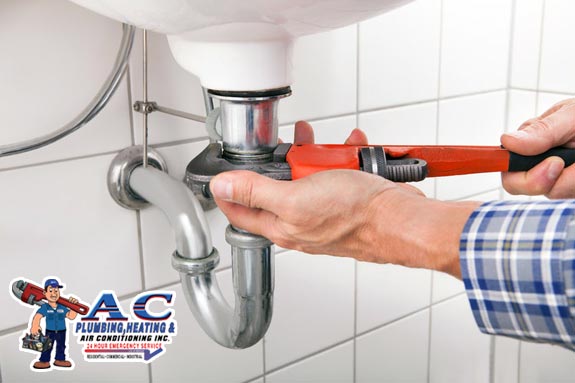 Schedule Service
Clear your clogged drain
24/7 Service