Air Conditioning, Heating & Plumbing in Rolling Hills, CA
HVAC & Plumbing Repair, Maintenance, Installation & Replacement
AC Plumbing, Heating & Air Conditioning offers quality services in Rolling Hills, CA that help to keep your home or business stays comfortable all year long. If your furnace or air conditioner is not keeping you comfortable, you might need a repair, maintenance or a replacement. Call AC Plumbing, Heating & Air Conditioning for an evaluation of your HVAC system.
We also provide plumbing services. Whether you have a small plumbing project or need repairs, you can count on our plumbing experts. Our plumbers can handle any project you have. We provide residential and commercial plumbing service.
Air Conditioning
Purchasing a new air conditioning system should not be a frustrating experience. Our professional air conditioning technicians will provide you with all of the information you will need to make the best choice for your home. We will install a system designed for your needs, with maximum efficiency, at a price you are comfortable with. We perform all installations to manufacturer standards to ensure an accurate SEER rating and proper airflow.
Ductless Air Conditioner in Rolling Hills, CA
Samsung ductless mini split air conditioner and heat pump systems are ideal for homeowners. When only a single room of the house needs to be cooled or heated, you now have a simple solution. Along with a quick, noninvasive install process, they provide plenty of advantages like high efficiency, low noise, and total control.
Get an estimate for ductless mini-split installation for your home or business.
Excellent Plumbing Service
Do you need professional plumbing in Rolling Hills? We provide quality plumbing work and prompt customer service. We handle installations, renovations, and maintenance as well as repairs for residential & commercial. Our experienced, licensed plumbers do it all.
Some of our Plumbing Services Include:
Heating Services
When it comes to quality heating maintenance and furnace repair services, choosing a service provider who is experienced in all aspects of furnace services from repairs, maintenance, replacements, and new installations is important. AC Plumbing, Heating & Air Conditioning, will perform the maintenance that is needed so your furnace will work when you need it. From basic furnace maintenance to installation.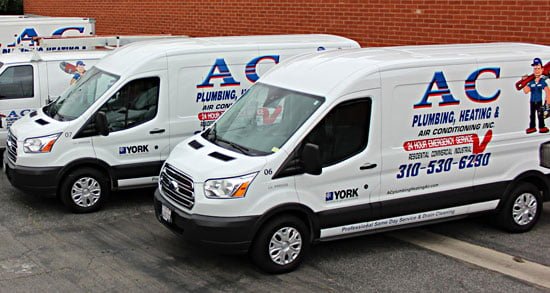 Schedule Service
For air conditioning, heating & plumbing in Rolling Hills, CA
For Residential Customers Only
Rolling Hills, CA 90274, 90275
QuietCool Whole House Fan
A whole house fan is a ventilation cooling system that uses less energy than a traditional air conditioner. This energy-efficient system works by pulling cool, outdoor air into your home and out your attic vents. This helps keep the mass in your home cooler than an air conditioner can. These whisper-quiet and energy-efficient wonders are the #1 residential cooling & ventilation appliance on the market. With a whole house fan, you're able to turn off your most expensive appliance, air conditioning, while improving the air quality and comfort of your home for just pennies per hour.
Contact us for more information on cooling your home with QuietCool.
Tung N. - Rancho Palos Verdes, CA
Eddie was great! Couldn't be happier with his service. I have a tankless water heater and he knew his stuff. He was able to identify the problem and fix it in less than an hour.
The only regret is that I didn't call these guys sooner. Thank you AC Plumbing and Eddie.