Air Conditioning, Heating & Plumbing in Rancho Palos Verdes, CA
As a plumbing, heating and air conditioning company serving Rancho Palos Verdes, CA we pride ourselves on our commitment to providing customers with exceptional services at the most competitive prices. We have made it our mission to offer nothing but the best products to ensure our customers are completely satisfied with our plumbing, heating & cooling services in Rancho Palos Verdes, CA and level of commitment to them. We're the plumber to call in Rancho Palos Verdes for service!
AC Plumbing, Heating & Air Conditioning technicians know that comfort is extremely important and want to ensure you are comfortable in your home all year round. Our well-trained technicians offer a wide variety of plumbing & HVAC services to address your needs.
Heating Services
AC Plumbing, Heating & Air Conditioning is a full service HVAC company that offers heating installation & furnace repair in Rancho Palos Verdes, CA. When your home requires furnace installation, contact the experts at AC Plumbing, Heating & Air Conditioning for the best heating service in Rancho Palos Verdes, CA.
Don't wait until there is a problem before you decide to contact AC Plumbing, Heating & Air Conditioning. Our highly trained technicians can come to you and we can keep your heating and cooling system in Rancho Palos Verdes, CA at its best all year round.
Professional furnace repair in Rancho Palos Verdes is a phone call away
Contact AC Plumbing, Heating & Air Conditioning your Rancho Palos Verdes furnace repair company so that we can diagnose the problem and set you up with a preventative maintenance plan. Neglecting necessary maintenance ensures a steady decline in a heating systems performance while energy use steadily increases.
Plumber in Rancho Palos Verdes, CA
Your home's plumbing may not be a focal point, but quality and properly functioning plumbing is vital to your comfort. Whether it's a leaking pipe or a busted hot water heater, AC Plumbing, Heating & Air Conditioning can assist you. Our experts will explain our recommendations and offer affordable solutions for all your plumbing needs including:
Sinks, faucets, garbage disposals, leak repair, water filtration, gas lines, toilet repairs & replacements, water heaters, PEX pipe installation, repiping & more.
Air Conditioning
When the temperatures rise, the last thing you want to deal with is a broken air conditioner. Rather than waste time contacting an inexperienced air conditioning company, call AC Plumbing, Heating & Air Conditioning. Our technicians are fully trained to handle any type of AC repair regardless of the model and brand of your unit. We also provide air conditioning maintenance, seasonal tune ups to keep your system running and air conditioning installation and replacement. If you are looking to replace or upgrade your cooling system, we have a large selection of energy efficient units available to choose from.
Ductless Mini Split
Ductless mini splits have been used for small spaces that need heating & cooling or where no ducts are available. Recently mini split systems have become more popular for whole home air conditioning and heating because they are energy efficient. With zoning features that allow you to air condition or heat any room independently of the others. Ask us about Samsung mini splits.
Whole House Fan
We are an authorized QuietCool dealer and install whole house fans in Rancho Palos Verdes CA. With energy consumption as low as 55 watts and a 15-year warranty, the QuietCool Stealth Pro Line offers ultra-high efficiency and peace of mind operation. QuietCool offers an industry leading 10-year warranty. With QuietCool, you will have the confidence that your fan will be operating at its fullest potential for a decade, or more likely, even longer!
Tung N.
Rancho Palos Verdes, CA
Eddie was great! Couldn't be happier with his service. I have a tankless water heater and he knew his stuff. He was able to identify the problem and fix it in less than an hour.The only regret is that I didn't call these guys sooner. Thank you AC Plumbing and Eddie.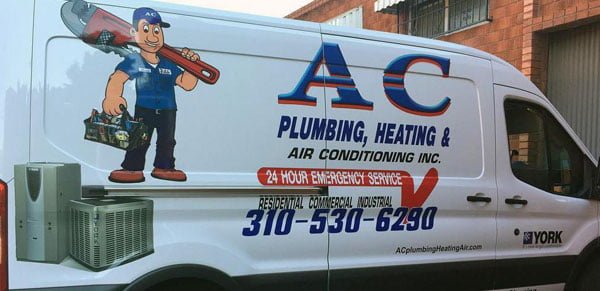 Schedule Service
For exceptional air conditioning, heating & plumbing in Rancho Palos Verdes, CA
Torrance, CA 90501, 90502, 90503, 90504, 90505, 90506