Ductless Air Conditioning & Heating in Torrance, CA
Imagine the potential energy savings when you can choose not to heat or cool unused rooms, while at the same time keeping bedrooms or the living room at the perfect temperature for comfort. Ductless air conditioning in Torrance, CA is also a great option if you have a converted attic, new addition or finished basement.
These high-efficiency systems can also help you save money by helping to keep your most-used rooms optimally comfortable, so that even if you have ductwork, you can potentially spend less on heating and cooling costs for the rest of your home.
We are proud to offer the Samsung wall-mounted ductless air conditioning systems in Torrance, CA. Samsung ductless mini split air conditioner and heat pump systems are ideal for homeowners. At AC Plumbing, Heating & Air Conditioning, we can help you choose the right ductless mini split system in Torrance to fit your needs.
Ductless Mini Split Repair
If your ductless system appears to be performing at less than optimum levels, or it is making odd sounds, contact AC Plumbing, Heating & Air Conditioning to inspect it. Broken or compromised components can reduce air quality and the overall effectiveness of your ductless system.
Professional Ductless Maintenance
As with traditional HVAC systems, ductless systems also need routine tune-ups and maintenance by a professional. In fact, your manufacturer warranty may require that. Have your ductless unit checked every one to three years. Refer to your system manual for recommendations.
Ductless Air Conditioner Installation
Our experience with the ductless air conditioner installation process ensures quality workmanship from start to finish. We are a Samsung HVAC Preferred Plus Dealer & Samsung Trained Dealer. Our technicians show up on time, listen to your needs, and guide you through every decision.
Today's high-performance ductless systems are more efficient than older models. With a thorough understanding of today's systems, our comfort technicians will make the right recommendation for your home. They will answer all of your questions and prepare a cost proposal for your installation project. Most importantly, your new system will be installed correctly and efficiently to ensure a positive experience for you and your family.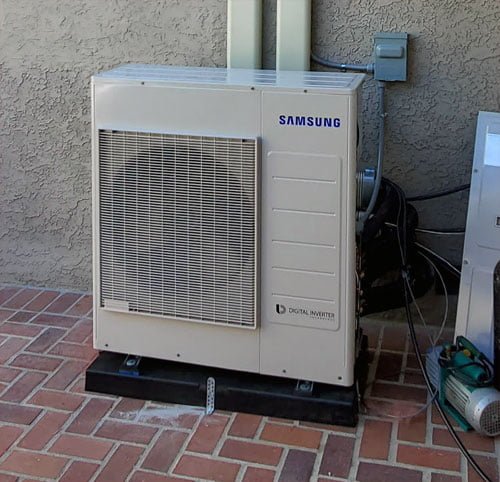 Request Information
For Ductless Air Conditioning & Heating in Torrance, CA
Torrance, CA 90501, 90502, 90503, 90504, 90505, 90506