Air Conditioning, Heating & Plumbing in Redondo Beach, CA
AC Plumbing, Heating & Air Conditioning provides sales, service and installation of plumbing, heating & air conditioning in Redondo Beach, CA. We know that it's not the way you want to spend your money repairing HVAC, the water heater, drain cleaning or other plumbing problems. AC Plumbing, Heating & Air Conditioning not only make it's affordable but also has the knowledge and experience to get the job done right. Additionally, your energy & water bills can go down after making sure that your HVAC & plumbing are problem free.
Heating Repair
When it comes to heating repair, AC Plumbing, Heating & Air Conditioning is your reliable partner for exceptional service and affordable rates. Whether your furnace is malfunctioning or your heating system is not providing sufficient warmth, our team of professionals is here to help. With our expertise and experience, we can diagnose and address any issues with your heating system promptly and effectively.
Our technicians are well-versed in working with a wide range of heating systems from different manufacturers. No matter the make or model, we have the knowledge and skills to provide reliable furnace repair and restore the comfort of your home. We understand the importance of a properly functioning heating system, especially during the colder months, and we strive to minimize downtime and ensure your system is operating at its best.
Furnace Installation in Redondo Beach
If you find that your heating system requires frequent repairs or is outdated, it may be time to consider a new furnace installation in Redondo Beach. Our team can assist you in selecting the right heating system for your home's specific needs. We offer full heating installation services, ensuring that your new system is properly installed and optimized for efficiency and performance. With our guidance and expertise, you can enjoy a reliable and energy-efficient heating solution that keeps your home warm and comfortable.
Air Conditioning Services
At AC Plumbing, Heating & Air Conditioning, we are proud to offer quality air conditioning services in Redondo Beach. With our team of skilled technicians and years of experience in the industry, we are committed to providing reliable and efficient cooling solutions for your home or business. Whether you need routine AC repair, maintenance or a complete system replacement, we've got you covered.
Air Conditioning Repair in Redondo Beach, CA
When your air conditioner malfunctions, you can rely on AC Plumbing, Heating & Air Conditioning for prompt and reliable air conditioning repair in Redondo Beach. Our team of experienced technicians is well-versed in diagnosing and fixing issues with all makes and models of air conditioners. We understand the importance of a properly functioning cooling system, especially during the hot summer months. With our expertise and dedication to customer satisfaction, we'll have your AC unit up and running smoothly in no time.
Air Conditioning Installation
If you're in need of a new air conditioning installation in Redondo Beach, AC Plumbing, Heating & Air Conditioning is here to handle your installation needs. We are proud suppliers of York air conditioners, a trusted and reputable brand known for its reliable and energy-efficient cooling systems. Our knowledgeable technicians will assess your space and recommend the best system to meet your specific requirements. With our attention to detail and commitment to quality, you can trust us to install your new air conditioner efficiently and effectively.
Mini Split Installation in Redondo Beach, CA
Ductless air conditioners have exploded as a new way to provide highly efficient cooling to part of your home that doesn't have normal ducting installed. These are nothing like room air conditioners that are loud and not very efficient. AC Plumbing, Heating & Air Conditioning installs ductless mini splits in Redondo Beach, CA. We are proud to install Samsung mini splits, a brand that is a reliable, efficient solution to our customers.
Cool Your Home with the QuietCool Fan
QuietCool is a leading manufacturer of whole house fans, or attic fans, which are an alternative home cooling system. QuietCool produces a unique fan system that minimizes noise, improves airflow in your home and reduces the need to run a traditional air conditioning unit. Call us for more information.
Redondo Beach Plumber
Dealing with plumbing issues can frequently escalate into emergency situations, causing potential catastrophes like leaks or disruptive clogs that can render your living or working space uncomfortable. If you find yourself facing such challenges, AC Plumbing, Heating & Air Conditioning, is your dedicated Redondo Beach plumber. From urgent situations like leaks and disruptive clogs to addressing system performance glitches, odd noises, and installation needs, our proficient plumbers are dedicated to delivering efficient resolutions, ensuring that your plumbing functions seamlessly.
From water heater installation to drain cleaning, piping installation & more, a skilled plumber is available in Redondo Beach for all of your residential or commercial plumbing needs.
Copper Pipe repair
For reliable and efficient copper pipe leak repair in Redondo Beach, CA, turn to AC Plumbing Heating Air. Our experienced plumbers can quickly diagnose and fix any size or complexity of copper pipe leak using advanced equipment and techniques. We offer prompt service to get your plumbing back to normal as soon as possible. Contact us today to schedule an appointment.
Some of our Plumbing Services Include:
Beth M.
Redondo Beach, CA
I first utilized AC Plumbing when I purchased our home 10 years ago and the water heater needed replacement when I was just moving in. My realtor had referred me stating they were extremely good and neat. Since then I have called on them for everything from a faucet replacement to a clogged sink and a broken gas line. I have been consistently satisfied but today - they were as amazing as it gets.My husband and I noticed some water dripping from the window in our lower level bathroom. Upon further research we noticed that the entire support beam above our garage was dripping and there was water damage to the stucco. Of course we noticed this late on a Friday so I wasn't able to call until Monday morning. I called first thing and not only were they able to get out by 8:30 Monday morning and completely replace the water main which was spraying water everywhere inside the beam, but they were also able to extend the gas line from my furnace to my kitchen so I can finally purchase a gas stove!I cannot say enough about how good these guys are - neat, experienced, hard working and straight forward. As we have pretty much gutted and re-built our home we are extremely experienced with both quality and non- quality workmanship. AC Plumbing as they are now named is great. I concur with others - Armando is awesome.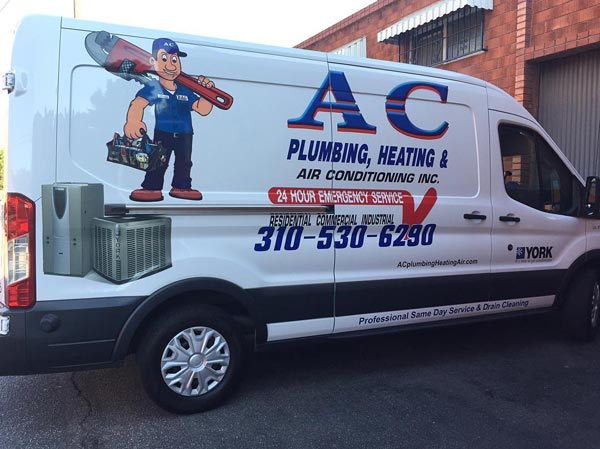 Schedule Service
For exceptional air conditioning, heating & plumbing in Redondo Beach, CA.
Redondo Beach, CA 90277, 90278