Air Conditioning, Heating & Plumbing in Hermosa Beach, CA
We are dedicated to providing quality HVAC solutions to Hermosa Beach. We are not a fly-by-night contractor, but someone who has been here for our customers, and will continue to do so.
With AC Plumbing, Heating & Air Conditioning you will receive custom indoor comfort solutions that meet your needs precisely. From plumbing to air conditioning, heating and indoor air quality products. You will not find another  HVAC & plumbing contractor in Hermosa Beach who will provide the service you receive from AC Plumbing, Heating & Air Conditioning.
Air Conditioning & Heating Repair
Experiencing an air conditioner or furnace problem can be stressful. Not only is that not in the budget, but it can cause major discomfort for your family. AC Plumbing, Heating & Air Conditioning is a Hermosa Beach HVAC contractor with the experience required to quickly diagnose any problem, and perform the needed repair with industry best expertise. You won't regret the day you call us for heating and air conditioning repair! Call us today and find out what real service is really like! We service equipment from any manufacturer.
Heating & Cooling Installation
The many details involved in a new HVAC installation can be mind boggling. Even choosing the right equipment can seem like a monumental task for a homeowner due to the plethora of options available in modern heating and air conditioning. Don't worry – when you trust us with your Hermosa Beach HVAC installation, you'll experience service that will leave you with a smile. From equipment selection and design to the actual installation day, we will take you through the steps providing a stress free experience combined with industry best work.
Ductless Mini-Split
A ductless air conditioner operates in essentially the same manner as its ducted counterpart. The heart of every AC system includes a compressor that applies force to low pressure refrigerant and transforms it into a high pressure gas. The condenser and fan work together to dissipate the accumulated heat, and the refrigerant emerges as a high pressure liquid. At the evaporator coil, the liquid extracts heat from the indoor air and the resulting low pressure gas is pumped back into the compressor to complete the cycle.
Like a conventional split system, ductless air conditioners include an outdoor condensing unit to help minimize interior noise. While central air conditioners employ a single air handler, blower, and evaporator coil, mini split systems house all three components together in separate indoor units that are strategically placed throughout the building. Stylish enclosures are hung on interior walls or placed in the ceiling, which completely eliminates the need for duct work in the air distribution design.
Whether you're dealing with a leaky faucet or a clogged drain, finding the right plumber in the South Bay can be a challenge. Hiring a professional plumber in Hermosa Beach is a smart investment for any homeowner. With our expertise, experience, and access to specialized tools and equipment, AC Plumbing, Heating & Air Conditioning can quickly and efficiently resolve even the most complex plumbing problems. Don't wait until a problem becomes a crisis – contact us today.
No matter what your plumbing needs are in Hermosa Beach, AC Plumbing, Heating & Air Conditioning can help you.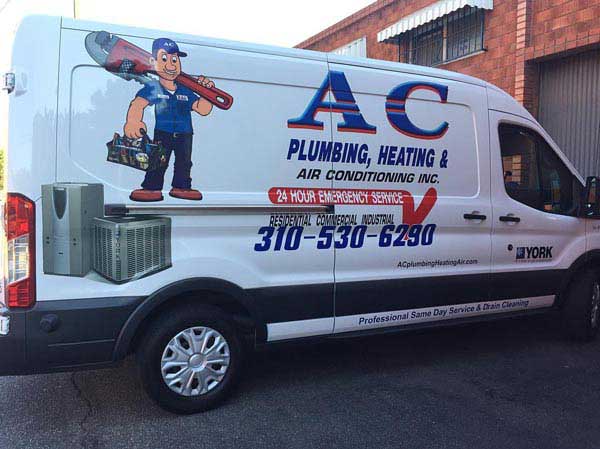 Schedule Service
For air conditioning, heating & plumbing in Hermosa Beach