Water Heater Repair & Installation
Serving the South Bay
Torrance, Rancho Palos Verdes, Carson, Harbor City, Redondo Beach, Rolling Hills, Manhattan Beach, Hermosa Beach & surrounding areas.
Whether your hot water heater is traditional or tankless our services include repair, maintenance & replacement. We are ready to respond to your plumbing emergency. Our service area  in the South Bay includes Torrance, Rancho Palos Verdes, Carson, Harbor City, Redondo Beach, Rolling Hills, Manhattan Beach & Hermosa Beach, CA.
Water Heater Repair
When your water heater malfunctions it not only affects your shower but household appliances like dishwashers and laundry machines also depend on reliable hot water. We can repair your water heater fast!
Our technicians will arrive on time & correctly diagnose the problem. We can repair your existing water heater regardless of type or brand. We have the experience to handle problems that commonly result from dirty or corroded gas burners, faulty gas control valve or mineral deposits that diminish the transfer of heat from the burner to the water in the tank. We will do the job right! We'll make sure your water heater functions safely and we'll help maximize your water heater's life span. Get your water heater repaired, call us today!
Water Heater Replacement
Sometimes effectiveness or efficiency calls for a new water heater. We install standard storage style water heaters as well as tankless models from high-quality manufacturers, including American Standard, Rinnai, and A.O. Smith, State and more. We will help you determine what type of water heater will best fit your home and hot water demands.
Tankless Water Heater
We know that purchasing a tankless water heater in requires a qualified plumber. AC Plumbing, Heating & Air Conditioning is qualified to to handle all of your tankless water heater needs. We can help you select the best water heater for your needs and provide professional installation. For tankless water heaters, we'll help you determine how much water your home needs to help you decide what unit is right for you. With tankless you get the advantage of less energy consumption and a smaller unit.
Maintenance
Water heater maintenance is critical for the average life of a hot water heater. Normal inspections and flushing are recommended by most manufacturers and can extend the life of your electric water heater and make your water heater much cleaner.
It's important to flush a water heater tank periodically so the water heater will heat efficiently. Plan to have it done once every two years.
Tung N. - Rancho Palos Verdes, CA
Eddie was great! Couldn't be happier with his service. I have a tankless water heater and he knew his stuff. He was able to identify the problem and fix it in less than an hour.The only regret is that I didn't call these guys sooner. Thank you AC Plumbing and Eddie.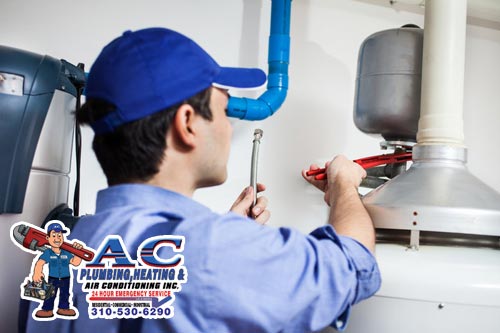 Request Plumbing Service
Water Heater Repair & Installation