Air Conditioning, Heating & Plumbing in Carson, CA
When you're in need of a skilled plumber for air conditioning, heating, and plumbing services in Carson, CA, look no further than AC Plumbing, Heating & Air Conditioning. Dial 310-530-6290 to connect with our expert team. We specialize in a diverse range of plumbing, heating, ventilation, and air conditioning solutions to enhance your comfort, boost energy efficiency, and cut costs. Our proficient plumbers and technicians are equipped to handle installations, repairs, and maintenance for both residential and commercial properties.
Expect prompt and superior service from us. Whether you require a plumber in Carson for plumbing repairs, AC repairs, or furnace maintenance in Carson, count on us to be there swiftly. Our expertise extends across all brands and types of heating, cooling, and plumbing systems.
In Carson, CA, we proudly offer installations of top-notch York air conditioners, heat pumps, and furnaces. Additionally, we're experienced in setting up Samsung ductless mini-splits and QuietCool whole house fans, ensuring your indoor environment remains comfortable and efficient.
Heating Services
When your heater stops working, we can send out our experts to repair your furnace in no time. If you're thinking about replacing your heating system our expert consultants will help you determine which unit is best fit for you based on the size of your home, budget and desired energy efficiency. Call us for quality heating services in Carson, CA.
Furnace Repair in Carson, CA
Our technicians are trained in furnace repair. If you have a problem, give us a call and we'll be out to fix it. Our expert technicians will give you options and an estimate, before any work is started.
Furnace Installation
For superior furnace installation, we highly recommend York. Known for their reliability and advanced technology, York furnaces offer efficient and dependable performance. Our expert technicians are proficient in installing various models, ensuring a seamless process. With a York furnace, you can trust in long-lasting warmth and comfort. Choose us for a top-notch York furnace installation experience.
Air Conditioning
AC Plumbing, Heating & Air Conditioning provides high quality air conditioning services that cover AC repair, installation & maintenance in Carson, CA. We are familiar with every brand of air conditioner and know what will work best for your home or business.
Air Conditioning Installation
Looking to install a new air conditioner in your Carson, CA home? Our professional team specializes in top-notch air conditioning installation services. We understand the importance of selecting the right cooling system that meets your family's needs and fits your budget. Whether you're replacing an old unit or installing a brand new system, we're here to ensure a seamless and efficient installation process. Trust our expertise to guide you in choosing the perfect air conditioner for your home, providing optimal energy efficiency and cooling performance.
Air Conditioning Repair
Is your air conditioner acting up in Carson, CA? Don't sweat it! Our skilled technicians are ready to provide reliable air conditioning repair services. We understand the inconvenience of a malfunctioning AC unit, especially during hot summer days. That's why we're committed to diagnosing and fixing the issue promptly. With our expertise and state-of-the-art equipment, we can address a wide range of AC problems, from minor repairs to complex issues. Rest assured, we'll have your air conditioner up and running smoothly, ensuring your comfort is restored in no time.
For comprehensive air conditioning services in Carson, CA, from installation to repair, trust our experienced team to deliver top-quality solutions. Contact us today to schedule an appointment and experience the difference of our exceptional service.
Ductless Mini Split Installation
You don't need duct work to enjoy temperature control in certain rooms in your house. Target a single room or multiple rooms, solve a hot or cold spot, or the needs of a new addition with highly efficient and quiet Samsung mini split cooling and heating systems. Most ductless models are forty percent more efficient than window air conditioning units. Choosing a split-ductless system offers a potential savings of thirty percent on your annual cooling and heating costs.
Plumber in Carson, CA
AC Plumbing, Heating & Air Conditioning is equipped to handle any plumbing problem you have! We repair water heaters, water lines and solve sewer problems. We can handle all types of plumbing problems including whole house re-pipe, water service line replacements, leak detection, pipe replacements, toilets and sewer lines. In addition to residential plumbing services, we also work with commercial companies that count on our services.
Water Heaters
Installing a new water heater can give your home a dramatic upgrade. Water heater replacement & installation in Carson, CA is not a do-it-yourself project. Problems can arise if the water heater is improperly installed. Call AC Plumbing, Heating & Air Conditioning for a professional water heater replacement & installation. We also repair tank and tankless water heaters in Carson, CA.
Water Filtration Systems
The installation of a whole-house water purification is complex, and it's important to get it right, or you risk reducing the quality of water. AC Plumbing, Heating & Air Conditioning will install your new water filtration system at the right spot in your plumbing so that all of the water in your house can be treated at once.
Tiana C.
Carson, CA
I recently used them to Hydrojet my lines. They are very reliable and they explain things very well. It was an emergency...my plumbing was backing up because the roots from the City's tree were in my pipes. The only way to clear the pipes was to hydrojet. They came out within 24 hours. It took about 5 hours to clear the lines, but it's been fine ever since.I will always use them for any plumbing needs that I have. They are great to work with.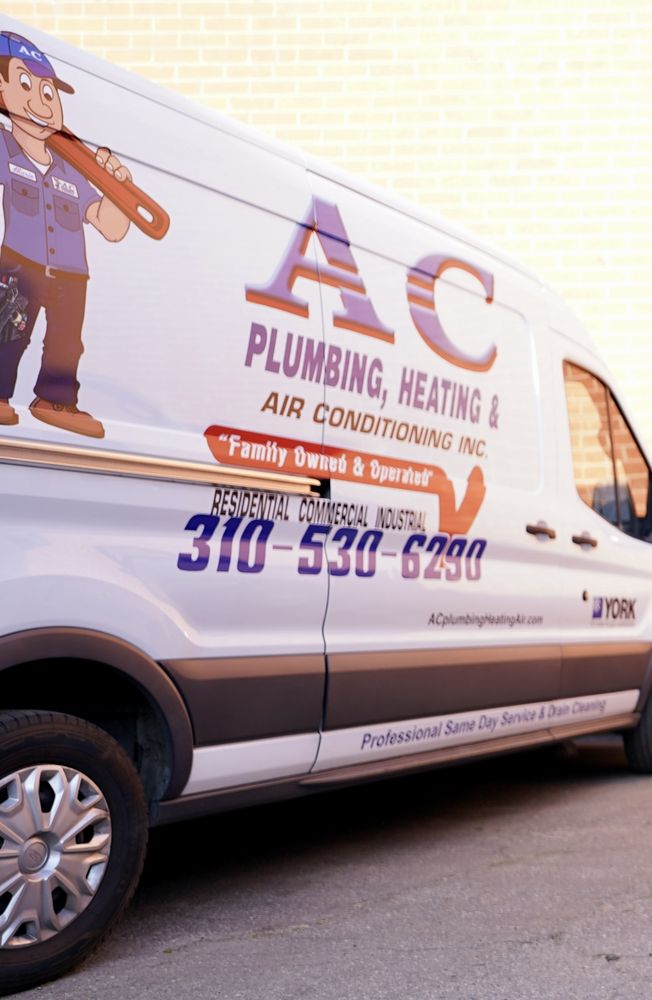 Schedule Service
Call us today for exceptional air conditioning, heating & plumbing in Carson, CA
Carson, CA 90745, 90746, 90810