Faucet Repair & Installation
Faucets control the flow of water into our homes & are essential components of the plumbing system. As with any fixture that is in constant use, eventually a faucet will be in need of repair or replacement. When you need faucet repair, replacement or a new installation call AC Plumbing!

Faucet Repair
The most common type of faucet damage is a leaky faucet. Leaks are often caused by faucets that have become loose through repetitive daily use. Most of the time, fixtures just need an easy adjustment, but sometimes they require parts.
A leaky faucet may seem like only an annoyance but the steady dripping from one faucet alone can mean a significantly higher water bill!
Our plumbers will do whatever it takes to get your faucet back in good working order.
Kitchen & Bathroom Faucet Replacement and Installation
Our plumbers specialize in all kind of faucet installation. They can install all kinds of interior and exterior faucets including bathroom sink, bathtub faucet, kitchen faucets and outdoor faucets. They will also replace bathtub handle valve, and faucet washers. Our plumbers will remove your old faucet, your shower faucet or shower head and handle and replace it with a new one.
Pamela H.
Hermosa Beach, CA
AC Plumbing totally helped me out today. Victor took care of a shower faucet problem that had been going on for some time. So grateful he was able to fix it before it snowballed into a very costly issue. Super courteous and professional. I was notified of all costs, and potential costs, upfront. Much appreciated Victor. So glad I called AC Plumbing!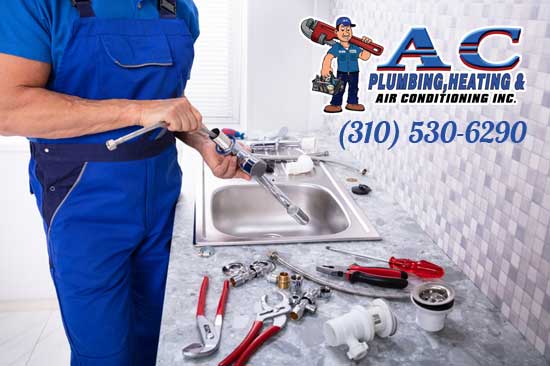 Schedule Service
For faucet repair & installation
24/7 Service