A heat pump acts just like an air conditioner to keep your home cool during a hot summer in the South Bay. A heat pump can also heat your home when the weather turns cold.
It's All About Heat Energy
Heating and air conditioning is about one thing: moving heat energy. In the summer, an air conditioning system doesn't blow cold air inside. It removes heat energy from inside air, and dissipates it into the air outside. In the winter, heat energy is added back.
Affinity™ Series
Affinity™ Series heat pumps offer higher energy efficiency than standard models – plus, an innovative QuietDrive™ Comfort System for very silent operation.
Raise your comfort level with our premium split system heat pump technology.
Advanced compressor design satisfies the degree of comfort you need.
QuietDrive™ Sound Reduction system includes swept wing fan, sound enclosure and composite base.
Get precise temperature control for ultimate comfort.
Save energy with a high-efficiency model.
High efficiency models up to 18 SEER and 10.0 HSPF deliver year-around cooling and heating comfort for less money.
Use the Affinity™ Wi-Fi Residential Communicating Control for greater control, more even temperatures,energy savings and heat pump efficiency.
Feel confident with built-in protections and certified safeties.
No annual maintenance needed on permanently lubricated fan motor bearings.
Withstands weather with finish that is 33% more durable than conventional powder-paint finishes.
Demand defrost assures complete defrost and energy efficient operation.
LX Series
LX Series heat pumps fit your needs and reduce your utility bills with verified quality that ensures reliable, all-season performance.
Feel more comfortable with our compact, high-efficiency heat pump design.
Advanced compressor technology combines efficient performance with consistent comfort.
Demand defrost function ensures dependable, efficient performance in cold weather.
Small-footprint cabinets deliver maximum performance that is both space and budget friendly.

Save energy with models that exceed the latest efficiency standards.
Save electricity with up to 16 SEER cooling and 9.0 HSPF heating efficiencies.
Enjoy advanced levels of efficiency with matched components that do more with less energy.

Industry-leading research and testing ensure reliability.
Industry-leading quality control and assembly processes are backed by the manufacturing expertise of Johnson Controls.
Factory installed high and low pressure switches protect the system from abnormal conditions.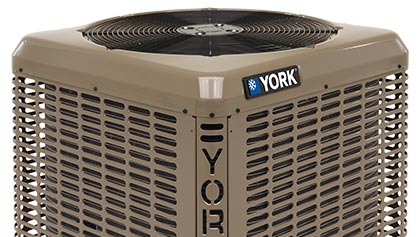 Schedule FREE Estimate
For a heat pump
installation or replacement
For Residential Customers Only
How a Heat Pump Works
During a hot summer, a heat pump compresses a gas called refrigerant. When compressed, the gas condenses down to a chilled liquid. The refrigerant is then pumped inside to the indoor coil. Warm air from the home is forced through the coil by the fan motor in the furnace (or air handler). The refrigerant absorbs heat energy from the air, and the process repeats.
In the winter, a heat pump literally reverses the cooling process. The heat pump absorbs heat energy from the air outside, and uses this to heat indoor air by dissipating the heat energy inside.
Heat Pump Efficiency
A Heating Seasonal Performance Factor (HSPF) rating is used to measure heating efficiency, and a Seasonal Energy Efficiency Ratio (SEER) is used to measure cooling efficiency. Call AC Plumbing, Heating & Air Conditioning at 310-530-6290 for heat pump repair, maintenance and installation services in the South Bay, CA.