Water Heater Installation in Redondo Beach
Need water heater installation in Redondo Beach? Contact AC Plumbing, Heating & Air Conditioning for expert water heater installation.
Your water heater provides the proper water temperature to bathrooms, kitchens, and laundry rooms. When choosing the right water heater for your water heating needs you can count on the plumbers at AC Plumbing, Heating & Air Conditioning to help you learn about features, and choose the right water heater for your home.
Water Heater Installation & Replacement
If your system has moved past its peak efficiency and you're ready for a replacement, call us and let a plumber help you select a model that works for your space. With high-efficiency models, we're confident that we'll find a suitable water heater for you.
Tankless Water Heater Installation
Tankless water heaters are one of the most energy-efficient ways to get your hot water on demand. We can replace your older tank water heater with a tankless water heater. Tankless water heaters provide you with superior energy efficiency when compared to their traditional counterparts. They lack the spacious water tank, so these installations take up far less room. You can easily fit them into any type of home design. You'll find that a tankless water heater can offer a longer lifespan as well, so you get more out of your investment.
Water heater repair
If your water heater needs repairs, our technicians can offer a quick diagnosis and efficient solution. Watch out for common signs of trouble with your water heater, so you can schedule a repair promptly.
Alicia A. - Redondo Beach, CA
My water heater broke and was leaking all night. AC Plumbing came first thing and fixed everything to include all new wiping. One easy price and they were incredibly helpful, kind and clean.
They even took the time to check my heater and recommend air conditioning.
Excellent company and care.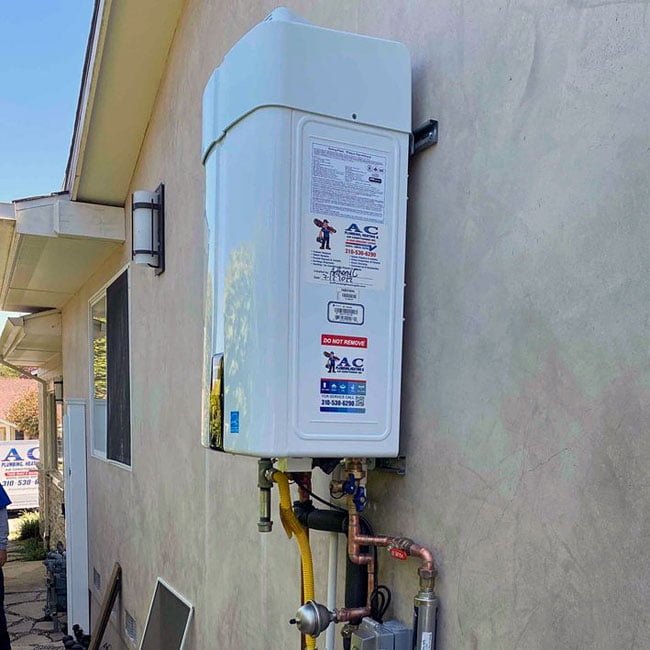 Contact us for
Water Heater Installation