Whole House Fan Installation in Redondo Beach, CA
We mostly enjoy great outdoor weather in the South Bay but sometimes our indoor air can get hot. That's where QuietCool whole house fan can help. QuietCool brings the cool air in. Contact us to get an estimate for a QuietCool whole house fan installation in Redondo Beach, CA or anywhere in the South Bay.
QuietCool Whole House Fan
Enjoy a cool breeze throughout your home and save energy. QuietCool whole house fans are the most efficient and quiet on the market today. Whole house fans help keep the energy cost down by taking fresh air outside and distributing in your home. AC Plumbing, Heating & Air Conditioning can properly install a QuietCool fan in your home that will keep your home comfortable during summer.
Each whole house fan system is unique to each home. We will create a plan for your home so you can enjoy fresh air in any part of the house. QuietCool Whole House fans pay for themselves in 2-3 years. Live in a cool and comfortable home all summer long and save money everyday!
How does a whole house fan work?
Anytime it is cooler outside than the inside of a home, the QuietCool whole house fan system will work effectively. In the summer, this normally happens in the late afternoon to early evening and through to the next morning.
The fans installed in the windows pull air in from the outside, which goes through the attic or the roof. It should be enough to keep you cool when the weather gets hot and you'd like to save on your energy costs.
The whole house fan from QuietCool is an effective alternative to air conditioning during the summer. It will provide fresh, cold air from the outside to your living space and replace the hot air in your home. It will help you cool the temperature by 30 degrees without costing as much as using an air conditioner.
QuietCool Installation
Ventilation is an important aspect of whole house fans, as well as installing a dedicated circuit wiring and probably new attic vents.
With years of experience and training, our technicians can ensure that every bit of the plan, from the measurements to the equipment, will go into providing fresh air in your home when you want.
If you're interested in getting a QuietCool fan installed or would like to more about whole house fans, call AC Plumbing, Heating & Air Conditioning.
We'll be glad to provide more information and share why a whole house fan is ideal for maintaining a high level of comfort in your home.
Paul H. - Redondo Beach, CA
Came out and provided reasonable estimate to install whole house fan. Did not use them for unrelated reason, but had we followed through. They would be the company we would have used. Would call them again.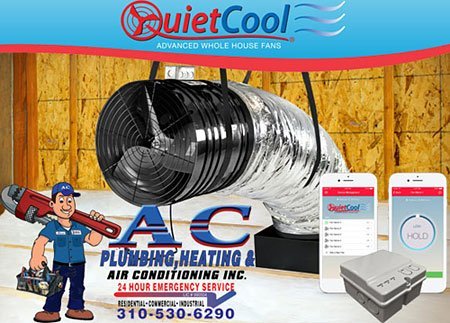 Contact Us
About Whole House Fans
Redondo Beach, CA 90277, 90278