We install YORK® air conditioning units that deliver remarkable efficiency, proven reliability and industry-leading warranties to provide lasting comfort in your home.
Affinity™ Series
Affinity™ Series split system air conditioning units offer higher energy efficiency than standard models – plus, an innovative QuietDrive™ Comfort System for very quiet operation.
Raise your comfort level with our premium split system cooling technology.
Advanced compressor design satisfies the degree of comfort you need.
QuietDrive™ Sound Reduction system includes swept wing fan, sound enclosure and composite base.
Get precise temperature control for ultimate comfort.


Save energy with a high-efficiency model.
High efficiency models up to 18 SEER provide more cooling for less money.
Use the Affinity™ Wi-Fi Residential Communicating Control for greater control, more even temperatures and energy savings.


Feel confident with built-in protections and certified safeties.
Count on internally protected compressor to withstand high temperatures and pressures.
Withstands weather with finish that is 33% more durable than conventional powder-paint finishes.
LX Series
LX Series split system air conditioners fit your needs with efficient models that reduce your utility bills and advanced MicroChannel coil technology that provides more cooling in a smaller footprint.
Feel more comfortable with our compact split system air conditioner design.
Proven single-stage compressor satisfies the degree of comfort you need.
Small-footprint cabinets deliver maximum performance that is both space and budget friendly.
Minimal vibration noise thanks to advanced fan blade design.
Optimized efficiency for your climate zone.
Enjoy efficiency levels designed to provide optimum performance for Northern, Southeast and Southwest climates.
Get efficient heat transfer thanks to optimized coils for effective airflow and refrigerant circulation.

Improved alloy, MicroChannel Coil ensures reliability.
Industry-leading quality control and assembly processes are backed by the manufacturing expertise of Johnson Controls.
Count on internally protected compressor to withstand high temperatures and pressures.
Durable powder coat paint creates an automotive-quality finish that looks great for years.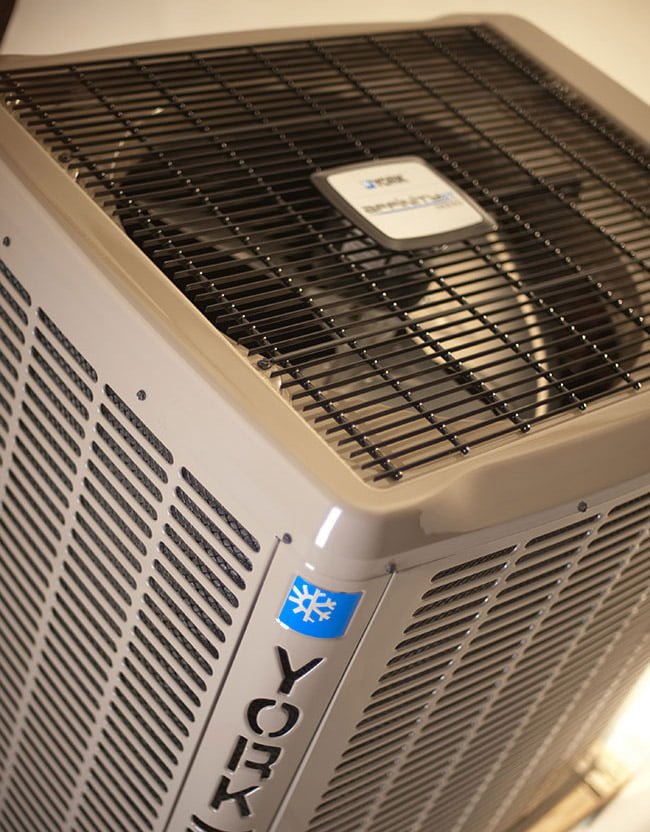 Schedule FREE Estimate
For an air conditioning installation or replacement
For Residential Customers Only
How An Air Conditioner Works
An air conditioner has one primary purpose, and that's to compress a gas called refrigerant. When compressed, the gas condenses to a chilled liquid, and the heat energy that was in the gas is dispersed into the outside air. Once chilled, the refrigerant is pumped (by the air conditioner) inside the home to the indoor coil. The fan motor in the furnace (or air handler) turns on and pulls warm air from the home via return air ducts. The refrigerant absorbs heat energy from the air, which cools it.
Air Conditioning Efficiency
The efficiency of an air conditioner is measured with a Seasonal Energy Efficiency Ratio (SEER) rating. An 18 SEER air conditioner is more efficient than a 16 SEER model. However, overall air conditioning efficiency is about much more than the SEER rating. A quality design and installation are paramount to achieving manufacturer specs.
Call AC Plumbing, Heating & Air Conditioning at 310-530-6290 for exceptional air conditioning service for the South Bay area. We offer maintenance, repair, replacement and new installation services.
EH S. - Redondo Beach, CA
AC Plumbing Heating & Air Conditioning installed air conditioning in our house this past March. They showed up when they said they would, worked diligently until the job was done, took care of all permits and inspections, and honored their original quote. We finally ran the AC at the end of June - works great! I would use AC Plumbing again and have recommended them to neighbors.