Ductless Air Conditioner in Redondo Beach
Most homes and businesses use a traditional heating & air conditioning system, which is one of the reasons why their bills are so high. These systems work by forcing air through ducts to rooms throughout the home or office. The whole house temperature is set by one thermostat and the system works to keep that temperature for every room. So,if it's 70 degrees in the kitchen, it will be 70 degrees in all of the rooms. The typical duct system can waste as much as 30% of the energy used in the process of heating or cooling your home. This energy can be lost in the ducts or unevenly distributed between the rooms while trying to maintain an even temperature throughout the home or business, resulting in a higher utility bill.
Ductless Air Conditioning Installation in Redondo Beach
AC Plumbing, Heating & Air Conditioning specializes in the installation and repair of ductless air conditioners in Redondo Beach. We are happy to provide the South Bay with options when it comes to cooling their homes or businesses. Our experts can assess your home and cooling needs to make a solid recommendation on what air conditioning system you need.
Why Install a Ductless Air Conditioner?
With many options for cooling out there, homeowners often look for the most efficient and least expensive option. If efficiency and savings are important to you, a ductless air conditioner might be your best option. There are many benefits to installing a ductless system. These benefits include:
Control Over Temperature – With a ductless system you can control the temperature in each room in your home. This means that everyone in your home can be comfortable.
Energy Savings – Since the unit can cool rooms individually, you are saving money by not cooling the rooms you do not use. Traditional air conditioners also lose a lot of cooling power in the ducts. Since a ductless system has no ducts, you are also not losing any power. Homeowners who have switched to ductless units reported at least 30% in monthly energy savings.
Simplicity – ­ A sleek and beautiful remote makes controlling ductless mini-split systems convenient. By calling AC Plumbing, Heating & Air Conditioning you can have a complete and efficient cooling system installed that will work for years to come and save you money each month.
Cynthia L. - Los Angeles, CA
AC Did a great job installing new AC and heating system in our house. Armando was very knowledgeable and his team did a great job with installation and communicated each step of the way. They were not the lowest bid we received but Armando made us feel more comfortable with their service than the competitors. I would recommend AC for all of your AC needs!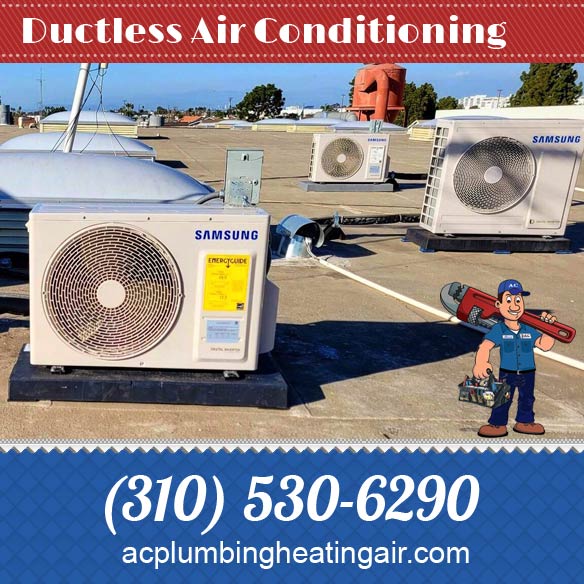 Schedule FREE Estimate
For Ductless Air Conditioner Installation
For Residential Customers Only
Redondo Beach, CA 90277, 90278