Drain Cleaning in Redondo Beach, CA
When it comes to drain cleaning in Redondo Beach trust your plumbing system to the professionals at AC Plumbing, Heating & Air Conditioning. We fix clogged drains, toilets, sinks & sewers.
Blockages can occur throughout many areas of your home including your kitchen, bathroom, toilet and mainlines. Blockages in your kitchen sink can occur by the food particles and items that go into your kitchen sink drain. This can also be oil, grease and other debris in the sink that can cause this. When it comes to your toilet and bathroom drains, the blockages can be caused by particles and debris flushed down the toilet.
Most of us would just take a plunger or one of the chemical products that are sold in stores to try to fix the blockage ourselves. However, these techniques do not always work and can actually lead to more damage to your fixtures, pipes, skin and clothing. Call AC Plumbing, Heating & Air Conditioning for professional drain cleaning in Redondo Beach, CA.
Clogged Toilet
Sometimes a simple plunging can unclog a toilet. However, if plunging does not solve the problem, or the problem keeps recurring, the blockage may be further down the line, and be a clogged sewer.
If this is the case, call us. Our plumbers have the expertise & tools necessary to take care of any clogged drain.
About our Plumbing Services in Redondo Beach:
We have had many satisfied customers over the years use our plumbing services and have been completely satisfied. Our technicians are courteous, professional and on-time. Trust your home to AC Plumbing, Heating & Air Conditioning, one of the leading plumbing contractors in Redondo Beach & the South Bay community!
Sewer Drain Cleaning
Your sewer drain problems are no problem for AC Plumbing, Heating & Air Conditioning. As licensed plumbers, we understand how your sewer drains work and the best solutions to make any sewer drain clog free. We can fix all clogged drains, like kitchen sinks, bathtubs, showers, backyard drains & any sewer drain back up including main sewer drains. With the help of our drain line camera, we easily locate and detect the cause of sewer drain problems. We will know specifically what the cause of the problem is and its exact location.
A Plumber You Can Trust
When plumbing issues happen, you don't have time to search for a Redondo Beach plumber near me or find a plumber in the yellow pages. You'll want a local plumber who you know and trust.
AC Plumbing, Heating & Air Conditioning. is the only number you'll need for all of your sewer and plumbing services.
Mimi H. - Redondo Beach, CA
Hands down the best plumbing company I ever dealt with. We had a leak that we discovered around 7:10 pm by 8:00 pm Eddie was at our place and did everything he could at that late hour and returned in the morning to continue the job. He put us in contact with a restoration company and even met with them to insure everything was communicated and repaired correctly. I can not thank Eddie enough for caring about our home as if it was his own.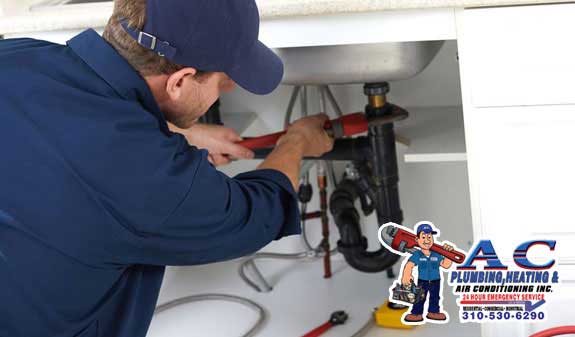 Schedule Service
Drain Cleaning in Redondo Beach, CA
Redondo Beach, CA 90277, 90278