Because heat pumps handle your home's heating and cooling needs, they offer a year-round solution. When you need heat pump repair or installation, we can help.  Our experienced heat pump installation professionals work the homeowner to help choose the best HVAC system that fits your family's needs.
Installation
Homeowners are always looking to improve their energy efficiency, and your heating and air conditioning can play a big part of that. Considering how mild the winters are in the South Bay, you might consider the benefits of a heat pump.
1. You schedule your appointment
Call or schedule your appointment online.
2. Tell us about your needs
We'll send one of our experts to talk with you about your heating and cooling needs and calculate what size heat pump you need—all for free. They'll make sure you're comfortable with the entire installation process. Then, you'll get the best heat pump options (with upfront pricing) for your home.
3. We install your heat pump
Once you choose a system, we'll install your heat pump—most likely in the same visit. We'll make sure your system is working properly and clean up after ourselves before leaving your home.
4. We make sure you're comfortable
After you get your heat pump installed, we'll make sure you have the chance to talk with us about any issues you had.
Heat Pump Repair
Your heat pump operates all year to keep your house warm in the winter and cool in the summer. The constant use can result in the need for repairs.
When you need heat pump repair in the South Bay, call AC Plumbing, Heating & Air Conditioning. Our heat pump service area includes Torrance, Redondo Beach, Rolling Hills, Manhattan Beach, Hermosa Beach & surrounding areas.
We can fix any heat pump. You can count on us to make your home comfortable again.
Heat pumps are the smart, low-nox replacement for gas-heated homes
The heat pumps we install are an electric heating source that are environmentally friendly, energy-efficient and meet all current Low NOx and Ultra Low NOx regulations. Heat pumps can both heat and cool your home, so if you currently don't have central air or have a traditional split system, a heat pump can keep you more comfortable year-round, and use less energy to do it. In fact, based on Southern California's mild climate, heat pump space heating averages about 4 to 6 times greater efficiency than natural gas furnaces.
How do the new Low NOx or Ultra-Low NOx standards affect your heating system?
Any new heating system you purchase will need to conform to the local emission standards. You may also have the opportunity to switch out a gas furnace for a more efficient one or a zero-emission solution like a heat pump. Your local government or utility provider may even offer incentives to make the switch to a more energy-efficient solution.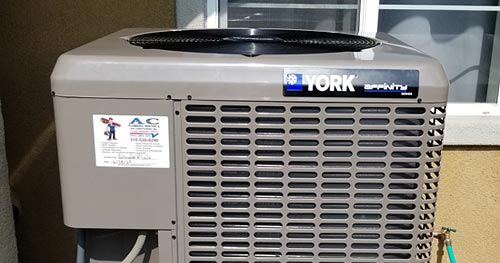 Get an Estimate
For Heat Pump Installation