Water Heater Repair & Replacement in Redondo Beach, CA
AC Plumbing, Heating & Air Conditioning realizes that one of most relied upon appliance in the house is the water heater. The water heater is always on to provide you with 24/7 hot water.
Let AC Plumbing, Heating & Air Conditioning and our highly trained staff of professional plumbing technicians diagnose your water heating system to give you the best option for reliable, energy saving hot water in your Redondo Beach, CA home.
AC Plumbing, Heating & Air Conditioning repairs and services all brands of residential water heaters.
Water Heater Installation
If you're looking to get a water heater replacement in Redondo Beach, CA or have a brand new unit installed, AC Plumbing, Heating & Air Conditioning can help you find the water heater you're looking for. From labor & parts to disposal of your old unit, you'll get one affordable price.
Tankless Water Heater installation Redondo Beach
The biggest problems that people have with their hot water is not having enough. You may find that hot water doesn't last long enough for everyone in your family to get a shower, or that it runs out partway through. These are problems that only exist with a tank water heater. A tankless heater can solve them. Call us for more information about tankless water heaters.
Alicia A. - Redondo Beach, CA
My water heater broke and was leaking all night. AC Plumbing came first thing and fixed everything to include all new wiping. One easy price and they were incredibly helpful, kind and clean. They even took the time to check my heater and recommend air conditioning. Excellent company and care.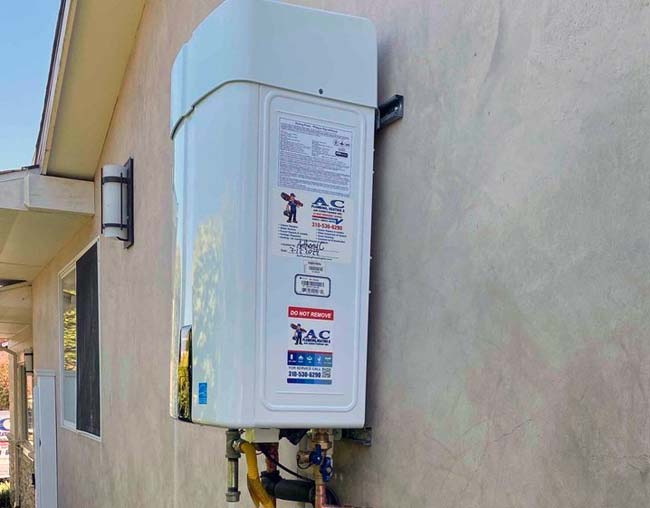 Schedule Service
Water heater services
Redondo Beach, CA 90277, 90278