Trusted Local Plumber Near You in the South Bay
Serving: Torrance, Rancho Palos Verdes, Carson, Harbor City, Redondo Beach, Rolling Hills, Manhattan Beach, Hermosa Beach & surrounding areas.
When it comes to plumbing services in the South Bay, it's important to have a team of experienced local plumbers you can count on. At AC Plumbing Heating & Air, our team of skilled professionals are dedicated to providing prompt and reliable plumbing services to our customers. From minor repairs to major installations, we have the expertise to get the job done right the first time.
Comprehensive Plumbing Services for Your Home or Business
At AC Plumbing Heating & Air, we offer a wide range of plumbing services to meet the needs of both residential and commercial customers. Our services include drain cleaning, pipe repair and replacement, fixture installation, and more. No matter what your plumbing needs may be, we have the skills and expertise to provide effective solutions.
Contact AC Plumbing Heating & Air for Your Plumbing Needs
If you're in need of reliable plumbing services from trusted local plumbers, look no further than AC Plumbing Heating & Air. Contact us today to schedule an appointment or to learn more about our comprehensive plumbing services.
Grace M. - Torrance, CA
I had a German made shower fixture that was constantly leaking, and the dial knob to adjust the temperature was difficult to adjust. The first plumber that took a look at it and was immediately intimidated by the job because he knew it would be a challenge to handle a German fixture. He told me that there will "complications" to replace the valve and cartridge--and needless to say, refused to do the job.
I called a second plumber, Eddie from AC Plumbing, and he immediately knew what to do and took on the job. He was able to research the replacement parts that will fit the existing fixture. When he came to perform the job, it was a cinch for him. It did not take long at all. He was quick, knowledgeable, and took necessary precautions so that there will not be any complications. His price was also very affordable.
I appreciate his knowledge, professionalism, and the care and respect he demonstrated in my house (i.e., wearing a mask and making sure his shoes were covered.)
I highly recommend Eddie without hesitation.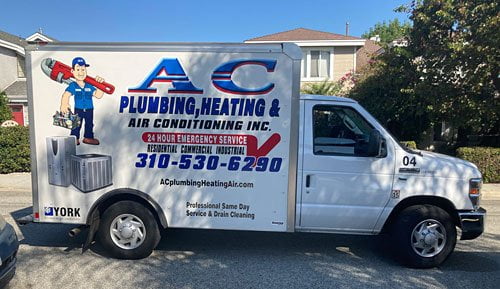 South Bay Plumber
Contact us