Garbage Disposal Repair & Installation
Whether cleaning up after a party or family dinner, a garbage disposal aids and speeds this process like no other home appliance. Still, these handy devices are not immune to clogs, malfunctions, or jams. The grinding blades of your garbage disposal are often wedged in place by fibrous foods, or grease poured down the drain acts like glue causing debris to stick and clog the entire system. Regardless what problem faces your disposal, our plumbers are ready to help get your garbage disposal back up to speed.
Get Your Garbage Disposal Working Again
Disposal Leaks: Like all plumbing appliances, a garbage disposal is susceptible to leaks. These leaks could quickly lead to water damage and facilitate the growth of mold underneath your sink. Trust our experienced plumbers to address and correct any problem with your existing garbage disposal.
Disposal Clogs: A garbage disposal is not designed to grind certain food or grease. They can collect other debris to form a clog. Call AC Plumbing, Heating & Air Conditioning to clear the blockage and deliver a professional assessment of any damage that may have been done to the device.
Disposal Replacement and Installation: If your garbage disposal has seen its last days or you are considering the benefits of such a new one in your kitchen, don't hesitate to schedule an appointment. Our plumbers will walk you through the different options and install a new system.
Keep Your Drains Clean with a Garbage Disposal
Should your garbage disposal encounter a clog, jam, breakdown, or if you want to add a garbage disposal to your kitchen, contact AC Plumbing, Heating & Air Conditioning for repair or installation.
Our South Bay service area includes Torrance, Palos Verdes, Carson, Harbor City, Redondo Beach, Rolling Hills & surrounding areas.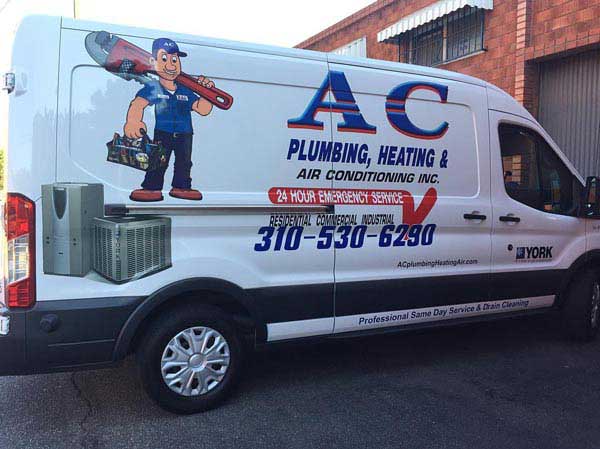 Contact us for
Garbage Disposal Repair & Installation​