in the South Bay Torrance, Rancho Palos Verdes, Carson, Harbor City, Redondo Beach, Rolling Hills, Manhattan Beach, Hermosa Beach & surrounding areas.
PEX pipes are an excellent choice that is both affordable and long lasting
PEX is available in a variety of lengths, from short 10-foot pieces (for small repairs) to rolls over 500 feet long, which are used to install a home's entire water supply system.
PEX pipe is part of a water supply piping system that has several benefits over metal pipe or rigid plastic pipe systems. It is flexible, resistant to scale and chlorine. PEX pipe doesn't corrode or develop pinholes.
PEX piping is more durable than copper piping, and it is used in a number of applications for residential and commercial plumbing. The average life span of PEX for plumbing purposes goes well over 20 years.
Installing PEX does not require soldering like copper and galvanized steel. PEX does not corrode, which can happen with both copper and steel pipes, leading to leaks and contamination of the water supply. Water flows silently through PEX, eliminating the hammering noise associated with metal piping. PEX can be connected to existing metal supply lines with the correct fittings.
PEX Advantages:
Inexpensive piping
Doesn't corrode
Resistant to acidic water
Very flexible; can make sharp turns without the need for soldering or using glue
Fewer fittings needed due to flexibility
Less chance of leaks because single, long run of pipe can be used
Easily repaired in the event that a leak does happen
Sally O.
Torrance, CA
I called AC Plumbing on recommendation of a friend. The kitchen faucet was making hammering noise for sometime. To my surprise when I clear things under the sink I found some leak in the bucket I had under the sink. Jose R. and Enrique came to the rescue. Jose checked thoroughly and fixed all the problems. I decided to have Jose check other areas and decided to fix bathroom faucets, toilets and water heater because their work ethic was exceptionally good. The next day four guys came to work on it.Jose came met me at the start and came by later to check on things. The water heater is on balcony and they had to come inside caring it so they lined every inch of the stairs and carpets with cloth. They left no mess whatsoever. These guys were the most professional group of people who worked fixing anything around the house. I will definitely recommend them to my friends. Thank you guys!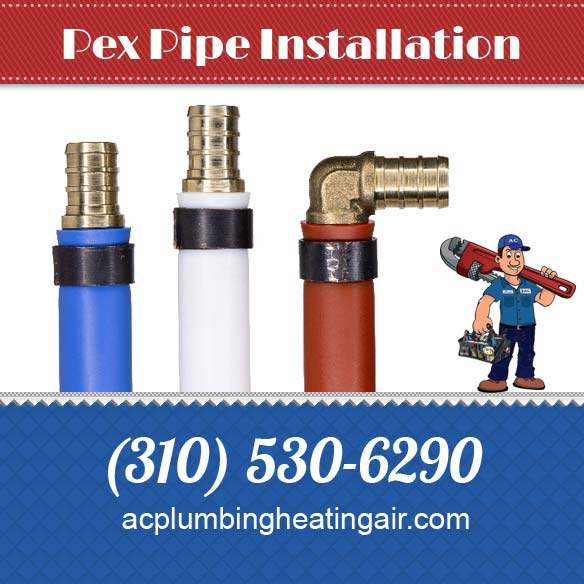 Get Information about
PEX Pipe Installation