Drain Cleaning in the South Bay
Think your shower, sink, or toilet might be clogged? It's time to bring in an expert. Call us for drain cleaning service, and we'll send out a plumber as soon as possible for a plumbing inspection. Our plumbers will clear any clog.
Our plumbers have what it takes to remove the toughest of clogs from your home's sinks, toilets, and showers. We'll leave your drain clear and smelling fresh. For fast service at any time of day, call us now.
Drain Unclogging
Clogged drains are typically caused by a object that has fallen into the drain or a collection of hair or other debris. We can unclog any drain. Our plumbers will assess the drain, find the cause of the blockage and remove it so your drain flows properly again.
Drain Cleaning
Drains that frequently backup or drain slowly for no immediate reason usually need to be cleaned. Slow flowing drains or frequent backups are often caused by dirty drains that are obstructed with layers of grease, debris, dirt, soap scum, roots and more. Unclogging will not fix dirty drains, as the obstruction requires deeper cleaning. We use innovative technology, like hydro jetting, to blast away the dirt and debris from slow flowing drains.
Kitchen Drains
These lines can build up with particles of food, grease and debris over time. Toilets aren't the only drains that get clogged. Kitchen sinks can get clogged too. You can count on AC Plumbing, Heating & Air Conditioning to solve your problems quickly. No matter what time it is, we are ready to dispatch a plumber to your home as soon as possible to clear urgent clogging problems.
Bathtub, Shower, And Sink Drains
When we unclog your drain we not only offer ways to prevent stoppages but we also inspection the condition of your plumbing so you can stay ahead of plumbing problems.
Main Line Drain Cleaning
All the drains in your house lead to the main line. This means that the combination of waste from your bathrooms & kitchen can easily cause a blockage in your home's main line. Tree roots can also grow into your home's main line, making it more susceptible to clogs and backups.
Clogged drains and toilets are just a few of the most common plumbing problems. If you are constantly experiencing clogged drains and no drain product helps to unclog it, then you need to give us a call.
We provide a wide range of quality plumbing services in the following areas: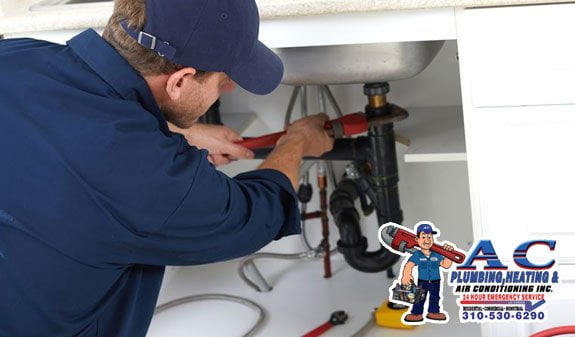 Drain Cleaning in
the South Bay