Plumbing Services in Palos Verdes, CA
Plumbing problems can be frustrating and damaging to your home. From leaky faucets to clogged toilets, it's important to have access to reliable and professional plumbing services in Palos Verdes. AC Plumbing, Heating & Air Conditioning has plumbing services available to help you keep your home's plumbing system in top shape.
Plumbing Services we Provide
Leak Detection: Leaks can be difficult to detect, but they can cause serious damage to your home if left unrepaired. Plumbing services can use specialized equipment, such as infrared cameras, to quickly and accurately locate leaks.
Repairs and Maintenance: From fixing leaky faucets to replacing old pipes, plumbing services can handle a wide range of repairs and maintenance tasks. Regular maintenance can also help prevent more serious problems from developing in the future.
Drain Cleaning: Clogged drains can be a major inconvenience, but plumbing services can quickly and effectively clear them out. They can also offer advice on how to prevent future clogs.
Water Heater Services: Your water heater is a critical part of your plumbing system, and plumbing services can help keep it running smoothly. This includes repairs, maintenance, and even replacement services.
Installation and Replacement: If you're building a new home or upgrading your plumbing system, plumbing services can help with the installation and replacement of various components. This includes new fixtures, pipes, and even entire systems.
Carla M.
I've had many different plumbers and companies but this has got to be to most impressive ones ever. The two guys Jose and Rapheal were very polite, got the job done in a timely manner and was extremely professional and friendly. I will continue to use this company without a doubt. Also the price was very reasonable trust me. I'm a senior on a tight budget and I was able to handle the price compared to other estimates I was very satified. No more looking for another plumber AC Plumbing for now on.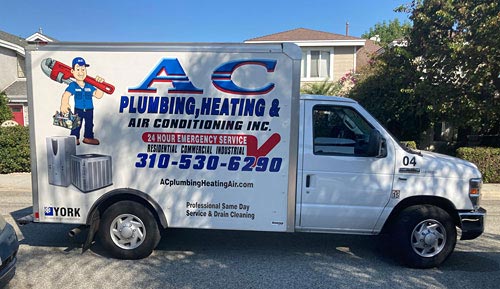 Contact Us for
Plumbing Services in Palos Verdes CA