Rancho Palos Verdes Plumber
AC Plumbing, Heating & Air Conditioning is the Rancho Palos Verdes plumber to call for all of your plumbing needs.
We offer hot water heater maintenance, repair & replacement, pipe repair and replacement, sump pump repair, video pipe inspections, toilet repair, and more. Whether you need emergency plumbing service or you have a faucet that needs to be repaired, we have the tools and experience to get the job done.
Rooter & Drain Cleaning
Sink, shower, toilet, or bathtub drain clogs are usually from dirty pipes. Even when you clear out a clog, you can't always clean out the build-up further inside the pipe. When you call the professional drain cleaners at AC Plumbing, Heating & Air Conditioning, our plumbers use drain rooting equipment to identify and clear drain obstructions. When our plumbers provide drain cleaning, we don't just treat the symptoms – we solve the problem.
Water Heaters
When you run out of hot water or your water heater breaks call AC Plumbing, Heating & Air Conditioning. We can diagnose your water-heating problem and come up with the best solution for you.
If it's time for water heater replacement, we offer many options, from tank water heater to a state of the art, high-efficiency tankless water heater that provides your home with endless hot water.
Plumbing Solutions You Can Trust
Tung N. - Rancho Palos Verdes, CA
Eddie was great! Couldn't be happier with his service. I have a tankless water heater and he knew his stuff. He was able to identify the problem and fix it in less than an hour.The only regret is that I didn't call these guys sooner. Thank you AC Plumbing and Eddie.
Danielle B. - Palos Verdes Estates, CA
Absolutely amazing company!! I can always reach someone when needed and have had same day or next day service on all my calls. Staff is very professional and friendly. They are efficient, knowledgeable and always have a reasonable price! I highly recommend this plumbing company and will be using them for all future needs!
Suzan W. - Palos Verdes Peninsula, CA
I dumped my last plumber - horrible - and searched for someone good. A friend highly recommended AC Plumbing so I gave them a shot. Eddie came a couple of times for some minor fixes but I could already tell these were the guys for me.This morning that sentiment was verified. My hot water heater stopped working and I called the office early to see if I could get someone here quickly. Although he already had a full schedule, Eddie called and tried to walk me through resetting the water heater. When that failed, he ran up to the house at his first break. By 9:30 AM my water heater was up and running.Thank you AC Plumbing. Thank you Eddie!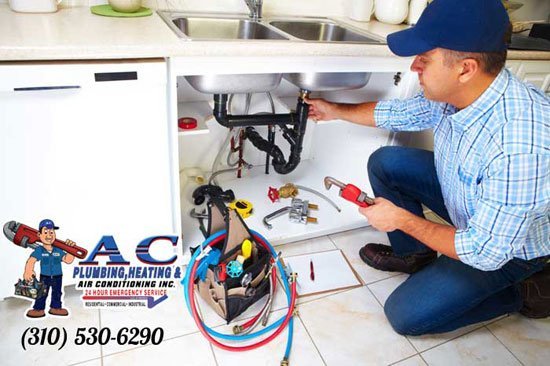 Rancho Palos Verdes Plumber