Pex Pipe Installation in Palos Verdes, CA
If your home needs a new plumbing system or repiping, one of the best options can be PEX pipe installation. Pex pipes don't corrode, are resistant to acidic water and are very flexible. Pex pipes can make sharp turns without the need for soldering or using glue. Call AC Plumbing, Heating & Air Conditioning for PEX pipe installation in Palos Verdes, CA. We are your local PEX repiping plumber that has a BBB A+ rating. We provide fast, dependable & knowlegable service.
There are many different reasons that PEX piping is recommended for plumbing and heating systems. This type of tubing provides a very flexible material which allows for easy and quicker installation as well as future service if necessary.
The flexibility of the PEX piping provides a water system that is overall quieter in comparison to metal piping. The material also shows a great resistance to chemicals & pin hole leaks.
Ask us if PEX pipes would be a good plumbing solution for you!
Katie F.
I am so thankful I gave AC plumbing a call! I am so impressed with their outstanding customer service & being able to get a tech out within the hour. A very special thank you to their wonderful technician Victor. He was courteous & very professional. My kitchen sink was backed up & he kept everything so organized & clean while troubleshooting, something I greatly appreciated. He was very diligent & was kind enough to walk me through it while I asked him questions regarding my plumbing problem. I appreciate how patient & how incredibly knowledgable he is. He has an absolutely terrific attitude & really takes pride in his work. Next time I have a plumbing issue, without hesitation Victor at AC plumbing is now my go-to technician!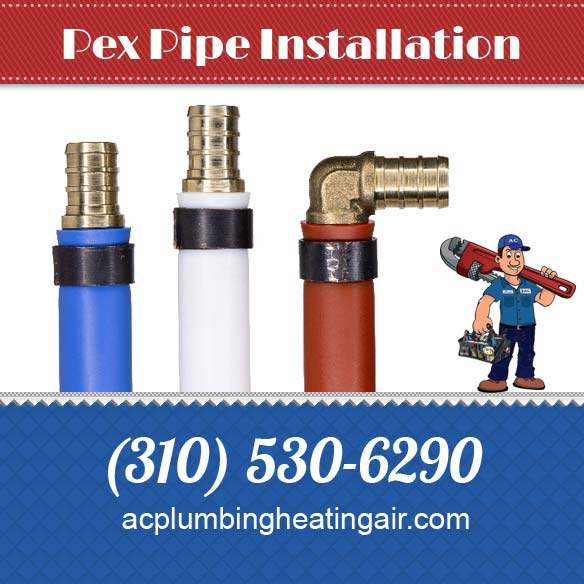 Schedule Service
Pex Pipe Installation in Palos Verdes, CA
Rancho Palos Verdes, CA 90274, 90275