Torrance, Rancho Palos Verdes, Carson, Harbor City, Redondo Beach, Rolling Hills, Manhattan Beach, Hermosa Beach & surrounding areas.
A leaky or constantly dripping faucet isn't just a headache for a homeowner, it can result in gallons of wasted water. Our skilled plumbers will prodive faucet repair to bring your fixture back to full operation.
You might think a dripping faucet would be a repair that any reasonably experienced handyman can do. When you consider all of the components that go into a faucet, you can appreciate the attention of AC Plumbing, Heating & Air Conditioning, an expert in this industry.
AC Plumbing, Heating & Air Conditioning offers a wide range of professional plumbing services in the South Bay. We offer professionalism and quality in our faucet repair and installation services, and faucet product offerings.
Some of Our Faucet Services:
Bathroom & Kitchen Plumbing Repairs
For quality bathroom & kitchen plumbing repairs, you can count on our plumbers. Whether you're replacing a broken fixture, or just woke up to a plumbing problem, we can help.
Our plumbers repair & install interior & exterior faucets including bathroom, bathtub, kitchen faucet & outdoor faucets in Torrance, Redondo Beach & surrounding areas.
Dee B.
Carson, CA
Mario and Fredy arrived on time and did an excellent job restoring water flow to my kitchen faucet and repairing leak under sink. Had a different company come to unclog pipes but he was unable to repair kitchen faucet. Mario and Fredy had to keep blowing into hose to flush debris. Took time to explain what to do the next time I shut off main water valve. Very efficient, informative and friendly with both myself and my dogs. Found your company online through Better Business Bureau. A+ rating and close location prompted my call. Will DEFINITELY refer you to family and friends and call whenever I have plumbing problems. Cost was very reasonable. Thank You. P.S. Please use dog in photo advertisement. Will let prospective customers know your company is pet friendly.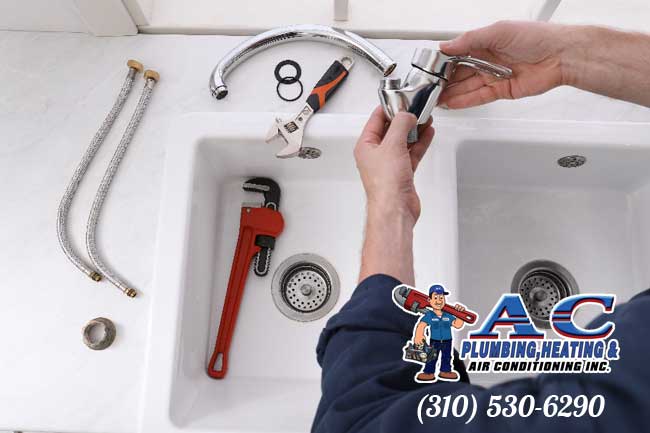 Schedule Service
For faucet repair