AC Repair in Torrance, CA
When you're in need of AC repair in Torrance, CA, look no further than the experts at AC Plumbing, Heating & Air Conditioning. We understand the discomfort of a malfunctioning AC system and the importance of restoring cool comfort to your home or business. With just one phone call, our team will be there to provide quality air conditioning repairs, ensuring efficient and reliable cooling. We are well-equipped to handle any symptoms your AC system may be experiencing and are committed to fixing it quickly, effectively, and at an affordable price. Rest assured, we have the expertise to repair all air conditioner brands.
Summer can put a tremendous strain on HVAC systems, making it crucial to have a trustworthy contractor who can promptly address any issues that arise. At AC Plumbing, Heating & Air Conditioning, we prioritize punctual service and deliver high-quality air conditioning repair and service in Torrance. Whether your AC unit is experiencing minor problems or has completely shut down, you can rely on us to be there on time to resolve the issue. In cases where a repair is not feasible, we can provide you with an estimate for air conditioning replacement, ensuring you have all the information needed to make the best decision for your cooling needs.
AC Repair Specialist
When you choose us as your AC repair specialist in Torrance, we make it our personal mission to get your system looking and performing like new again. Whether your system is 5 years old or 25 years old, we will take the time and precaution to locate the source of the problem, diagnose the issue, and fully communicate the solutions you have available. We want to make sure you stay cool and comfortable all year round.
Air Conditioning Maintenance in Torrance
The best way to ensure your air conditioning in Torrance is working at its best is to have regular maintenance. AC Plumbing, Heating & Air Conditioning offers a preventive HVAC maintenance tune up and professional cleaning for your air conditioning system. With this service you keep your system at its most efficient and avoid future repairs. We will lubricate moving parts to keep them working smoothly. Any parts that are beginning to show wear are inspected and can be replaced before they breakdown.
This service allows you to get the most out of your system. The more efficiently it runs, the less you pay in utilities bills on an over-taxed air conditioning system. Save money and extend the life of your air conditioner with regular air conditioning maintenance in Torrance, CA.
Air Conditioning Replacement in Torrance
When it comes to replacing your air conditioning system, it is important to consider factors such as the age and efficiency of your current system, as well as your budget and energy usage goals. A newer and more efficient system may cost more upfront, but it can save you money in the long run through reduced energy bills and fewer repairs. Additionally, newer systems often come with features such as programmable thermostats and air purifiers that can improve indoor air quality and overall comfort.
AC Plumbing, Heating & Air Conditioning can properly size and install your new system for optimal performance and longevity. By taking the time to carefully consider these factors, you can make a smart investment in your home's comfort and energy efficiency.
When your ready for air conditioning replacement in Torrance, give us a call!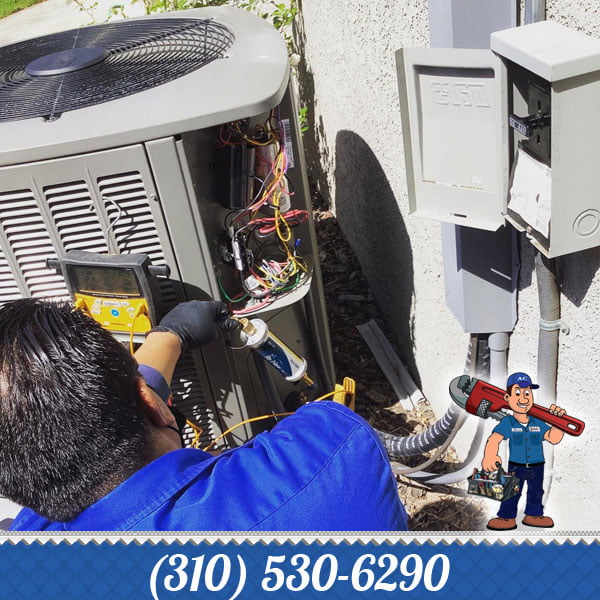 Contact Us
For AC Repair in Torrance
Torrance, CA 90501, 90502, 90503, 90504, 90505, 90506
Tim L. - Torrance, CA
AC Plumbing and Heating is AWESOME! Earlier this month, my AC made a weird noise and shutdown. It even killed the power to the house. I called AC Plumbing and Heating and they were out within a day to take a look. They were straightforward and honest. Pricing was pretty competitive as well.They will show you pictures of the issues, so you can see what is going on. After that, they broke down my options with quotes and everything. I ended up opting for the AC/Heater replacement as my unit was already 14 years old and nearing its life. Especially with the work from home, I had it running every day for the past few months.One of my biggest pet peeves of having work done on the house is the cleanup after. I did not have to worry at all with AC! They always wore shoe coverings before coming in and lined the path to the AC and heating unit with butcher paper and tarp. All I had to do was tell my little Roomba to do a quick pass through when they left.These guys are great! No complaints and only praise for the work these guys did! Thanks!