Air Conditioning Maintenance Torrance, CA
AC Plumbing, Heating & Air Conditioning can help you enjoy the full potential of your air conditioning system. We can keep it running for years by providing air conditioning maintenance in Torrance, CA.
While a home comfort system may seem complex, there are a few, basic preventative maintenance procedures you can perform to help keep your system running at its best. However, if your air conditioner or heat pump is more than 10 years old, consider contacting us to learn if a newer, more efficient system is the best choice.
Air Conditioner Maintenance & Heat Pump Maintenance
Clean dust or move furniture away from the grates that supply air to each room and make sure the return grate (normally larger and in a hallway) is clear, too. This helps ensure even, proper airflow throughout your home.
Clear leaves and debris from the system's outdoor condenser unit grille. If you notice the interior of the unit is dirty, contact your us. They'll have the tools and knowledge to power wash the unit without damaging it.
Examine ducts in the attic or crawl space for holes, loose tape or separated sections that might leak air.
Trim shrubbery to allow at least two feet of clearance around the unit.
Set the thermostat mode to cooling (and heating for heat pumps) to make sure it's working. Contact us for service if you hear any unusual noises.
Replace your air handler filter once a month to reduce airflow restrictions and wasted energy.
Make sure the condensate line is clear to allow for liquid runoff.
Set up an annual checkup of your system. We can help schedule routine maintenance.
Laura A. - Carson, CA
Armando came out to fix my AC after a different company failed to diagnose the issue and did an AMAZING job! He quickly diagnosed the issue, explained it to me, and fixed it! After fixing it he showed me pictures and explained to me exactly what he found and what he recommended for the upkeep. We're so happy that we can finally sleep in a nice cool home!! Would definitely recommend to all my family/colleagues!!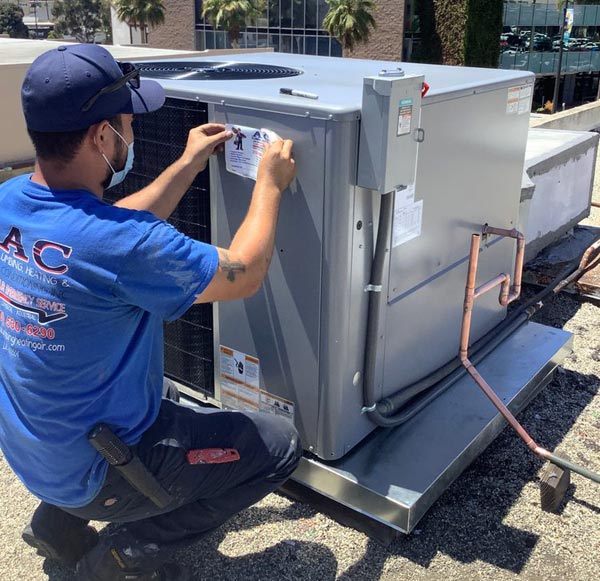 Torrance, CA 90501, 90502, 90503, 90504, 90505, 90506