Compact and efficient, YORK® residential packaged systems consolidate all the components of traditional, split HVAC systems into a single unit that sits outside your house. With a variety of air conditioning and electric and gas heating combinations, these models fit a variety of needs.
Packaged Equipment Installation
Sometimes indoor space constraints make a split system not very practical. For these scenarios, a packaged HVAC system can be the ideal solution. A packaged system locates all equipment into a single footprint installation that is mounted outside on a cement slab in the yard. Packaged systems come as all electric, gas and electric and even hybrid heating configurations (a heat pump and a gas furnace).
YORK® LX Series
Advanced LX Series Residential Package Equipment meet the latest Federal efficiency requirements with a quality-engineered, all-in-one space-saving cabinet.
Stay comfortable with an advanced cooling packaged unit with gas or electric heat.
Save space with an all-in-one cooling, cooling/gas-heating or electric-heating solution.
Advanced compressor ensures efficient cooling operation season after season.
Quiet operation with noise-reducing engineering.

Save energy by selecting an ENERGY STAR® recognized model.
Heating and cooling efficiencies meet the latest energy requirements.
Models with gas heating provide cost-effective warmth in cold weather.

A full-system test confirms fans, compressor, heat exchanger and control operation.
The industry's most advanced quality testing verifies compressor performance.
Standard ECM fan motors last longer.
Withstands weather with durable powder-paint finish.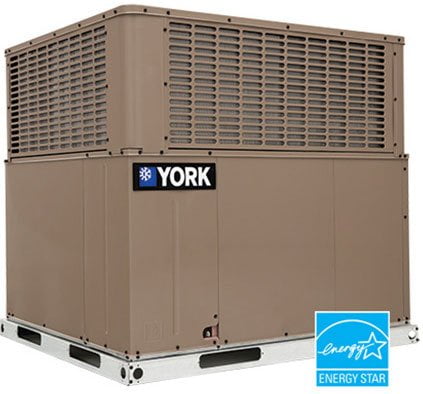 Schedule FREE Estimate
For packaged system installation or replacement
For Residential Customers Only