Water Heater Installation, Repair & Replacement in Torrance, CA
Many homeowners wait until their water heater fails before shopping for a replacement. Because they are in a hurry to regain their hot water supply, they are often unable to take the time to shop for the most energy efficient unit for their specific needs. This is unfortunate, because the cost of purchasing and operating a water heater can vary greatly, depending on the type, brand, size and on the quality of the installation.
The professional plumbers at AC Plumbing, Heating & Air Conditioning can recommend the right water heater for your family's needs and we'll also provide an expert installation. An important part of our job is to properly size the water heater. That includes calculating the demands from multiple bathrooms, dishwashers, clothes washers and any other points-of-use.
Even if your water heater is functioning adequately, maybe you're not getting enough hot water, or it's an old, inefficient model. The best decision could be to upgrade to a new, high-efficiency model with more capacity. AC Plumbing, Heating & Air Conditioning can help you evaluate your situation. On the flip side, if your water heater is making noises, emitting foul odors or just not making hot water anymore, no need to despair– it could be a simple problem that we can fix on-the-spot. We'll always do what's best for you and your budget.
Water Heater Repair
Water heaters are constantly working, heating and shooting water throughout your home, from faucets to showers and washing machines. Typically, people only think about their water heater twice in its lifetime; when it's first installed and if it fails and needs to be replaced.
However, like any other household appliance, water heaters may require repairs or maintenance from time to time. Usually these repairs are simple; replacing a thermocouple, draining sediment, etc., and the parts may be covered under the original warranty.
On average, a standard tank water heater will last about ten years. If your water heater is over 10 years old and needs to be repaired the chance of the heater failing again is high. At the price point for standard water heaters, it usually makes more economic sense to replace than repair an old water heater.
Beth M. - Redondo Beach, CA
I first utilized A1 when I purchased our home 10 years ago and the water heater needed replacement when I was just moving in. My realtor had referred me stating they were extremely good and neat. Since then I have called on them for everything from a faucet replacement to a clogged sink and a broken gas line. I have been consistently satisfied but today - they were as amazing as it gets.My husband and I noticed some water dripping from the window in our lower level bathroom. Upon further research we noticed that the entire support beam above our garage was dripping and there was water damage to the stucco. Of course we noticed this late on a Friday so I wasn't able to call until Monday morning. I called first thing and not only were they able to get out by 8:30 Monday morning and completely replace the water main which was spraying water everywhere inside the beam, but they were also able to extend the gas line from my furnace to my kitchen so I can finally purchase a gas stove!I cannot say enough about how good these guys are - neat, experienced, hard working and straight forward. As we have pretty much gutted and re-built our home we are extremely experienced with both quality and non- quality workmanship. AC Plumbing as they are now named is great. I concur with others - Armando is awesome.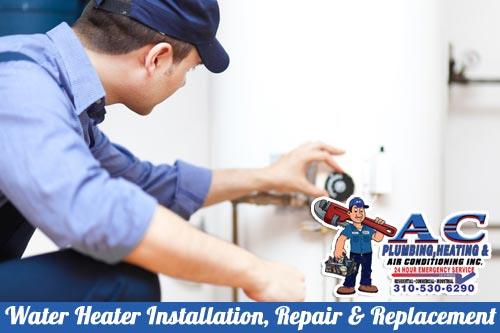 Water Heater
Installation & Repair