Heating in Palos Verdes, CA
Whether your furnace needs to be repaired, replaced, maintained, or you require a new heating system installed, you can count on AC Plumbing, Heating & Air Conditioning to get the job done.
We offer a wide range of system types and sizes, including furnaces, heat pumps and ductless mini split systems. AC Plumbing, Heating & Air Conditioning offer superior heating services in Palos Verdes, including installation, replacement, repair, and maintenance. Let us find a comfort solution for your home and family. Call us for all of your heating needs.
Furnace Repair in Palos Verdes, CA
While installation and maintenance are important, sometimes you need furnace repair in Palos Verdes. We offer professional heating repair services, including HVAC services. Our heating technicians can restore the operation of your heater so that your home never remains cold for long. Whether your system has a cracked heat exchanger or a ductwork issue, we can help.
Heating Installation
Are you in the market for a new heater? Have you reviewed heat pumps, ductless mini splits & gas furnaces? There are numerous system types on the market today. We can explain all of your options and find the perfect heating system to fit your home & budget.
Heating System Services
Your furnace is a big investment and needs to be maintained to work efficiently. Our HVAC technicians have extensive training and experience providing heating services in Palos Verdes. We are equipped to provide repairs and maintenance for furnaces from all major equipment brands. Our technicians will explain any work that is needed and take the time to answer your questions, whether you are wondering about repairs or new equipment installation.
Sandy P. - Palos Verdes Peninsula, CA
We have hired "heating and air conditioning companies" for many years. Some were good enough, some fair, some poor and one a disaster. Recently after over a year of "attempting" to get the "disaster company" to fix the leak they caused, to repair the air conditioning improper installation, and repair also the wine cellar unit, we decided to make a complete change.
We used Yelp to choose and chose AC as they had 74 five star reviews. We noted that the owner Armando even thanked those customers who posted good reviews. We chose AC ac-plumbing-heating-and-air-conditioning-harbor-city; Owner Armando!
We found a FIVE STAR for sure. Good looking and clean trucks, uniformly dressed employees, and the Owner was part of the team that did 2 new air installations for us. Fantastic would not be a strong enough praise. Clean, competent, informative, fair pricing, (even got for us the utility discounts for the 2 new units), and also did some difficult changing of the duct system. And surprise surprise even provided the installation and warranty manuals for each system at the completion of each installation.
Saying we are satisfied is not sufficient - we are ECSTATIC - Armando and team deserve Six Stars. Any one that wishes to confirm this review can call us at 310-480-5130 as this company deserves every compliment in the review.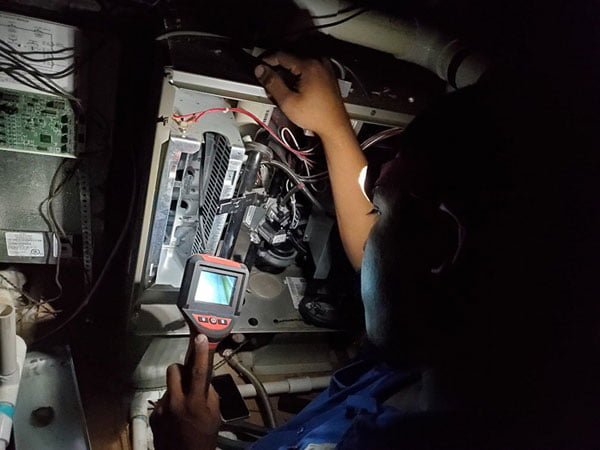 Schedule Heating Service
in Palos Verdes, CA
Rancho Palos Verdes, CA 90274, 90275