Furnace Repair Services in Manhattan Beach
When it comes to furnace repair in Manhattan Beach, AC Plumbing, Heating & Air Conditioning is the name you can rely on for superior service.
Why Choose AC Plumbing, Heating & Air Conditioning?
We have solidified our reputation as the preferred choice for furnace repair in Manhattan Beach for several reasons.
Expert Technicians: Our team comprises highly skilled technicians with extensive experience in repairing all types of heating systems, including gas and electric furnaces.
Swift Service: Recognizing the inconvenience and discomfort a malfunctioning furnace can cause, especially during cold Manhattan Beach nights, we offer prompt and dependable furnace repair services. When you contact us, we'll arrange a convenient appointment to restore warmth to your home.
Comprehensive Repairs: Our technicians are equipped with state-of-the-art tools and equipment to identify and rectify any issue with your furnace, from minor fixes to major overhauls.
Transparent Pricing: We believe in transparency and provide fair and competitive pricing for our furnace repair services, with no hidden fees.
Customer Satisfaction: Your satisfaction is our top priority. We not only aim to repair your furnace but also optimize it for energy efficiency, helping you save on heating costs over time.
Common Furnace Problems We Address:
No Heat: If your furnace isn't producing heat, our experts can quickly pinpoint the problem and provide an effective solution.
Unusual Noises: Strange sounds emanating from your furnace can be indicative of an issue. We'll investigate and resolve any problems causing noise.
High Energy Bills: A sudden spike in your energy bills may be due to an inefficient furnace. We can diagnose and rectify this issue.
Pilot Light Issues: Gas furnaces may experience pilot light problems that lead to a lack of heat. We ensure your pilot light is functioning correctly.
Thermostat Troubles: Sometimes, thermostat malfunctions can mimic furnace issues. We'll diagnose and repair thermostat problems as needed.
Don't endure a cold home due to a malfunctioning furnace. Contact AC Plumbing, Heating & Air Conditioning today for dependable furnace repair in Manhattan Beach. We're your trusted partner in maintaining a warm and cozy home.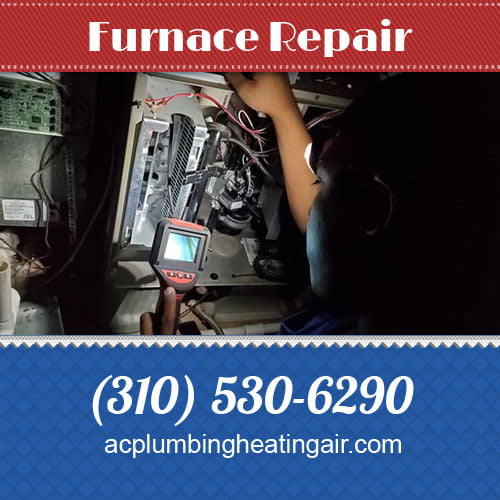 Schedule Service
For heating repair in Manhattan Beach, CA